How To Sell Clothes Online And Make Money From Home – 25 Best Sites & Consignment Stores Where To Sell Your Clothes Online
There are even specialist internet stores, with some specializing in children's clothing and others assisting you in selling designer clothing online.
Here are 20 of the top online consignment companies and e-commerce sites, as well as some advice on how to profit from your closet.
If you want to sell clothing online, keep in mind that there are two approaches you may use. One option is to sell your clothes online via consignment businesses, which will promote them for you and link you with clients all across the nation, if not the globe.
When you sell anything on consignment, you get paid when it sells. Many online consignment companies will do a lot of the labor for you, including taking professional images of your goods and assisting with the shipment.
Furthermore, they are often tailored for a particular object and audience. You might partner with an online shop that offers designer apparel if you're selling Louboutins or Gucci bags, for example (e.g., The RealReal).
The disadvantage is that these shops will take a percentage of your revenues as a commission in return for their services. You might try selling directly to customers on sites like eBay or Craigslist if you want to retain 100% of your income.
However, one downside of these sites is that you will be responsible for the complete transaction. You may also need to meet in person to exchange things, which may take time away from your already hectic day.
And, unlike consignment, you will not be compensated if your apparel does not sell.
25 Best Listing marketplaces Where To Buy And Sell Clothes
1. ThredUP
They take pleasure in offering high-quality apparel and accessories at a reasonable price, and they use an eye-catching marketing approach to ensure that your items sell quickly.
Unlike other consignment shops that require you to mail your stuff from home, thredUp sends your items to them and handles the wholesale.
They also provide sellers a "Clean Out Kit," reimburse them for contributions (if selling isn't their thing), give shop credit, and only sell high-quality clothes. Whether you're looking for or selling top-brand apparel or accessories for women, children, or pregnancy, thredUP is an excellent place to start.
ThredUp is a website that makes online apparel sales accessible to the public. Samantha Blumenthal, a representative for ThredUp, adds, "Our sweet spot is those brands you can buy in the mall and wear every day."
The corporation pays for the postage: thredUp prices products using an algorithm that considers the brand, style, season, and current inventory. In many circumstances, however, sellers can change the listed price.
Payouts vary from 5% to 15% of the selling price for products priced between $5 and $19.99 to up to 80% of the sale price for items priced at $200 or more. ThredUp's website provides a payment calculator for individuals who want to know how much their items are worth before shipping them.
Recycled items are those that aren't approved or don't sell. Sellers may also request that their items be returned, but they must pay a charge.
2. Tradesy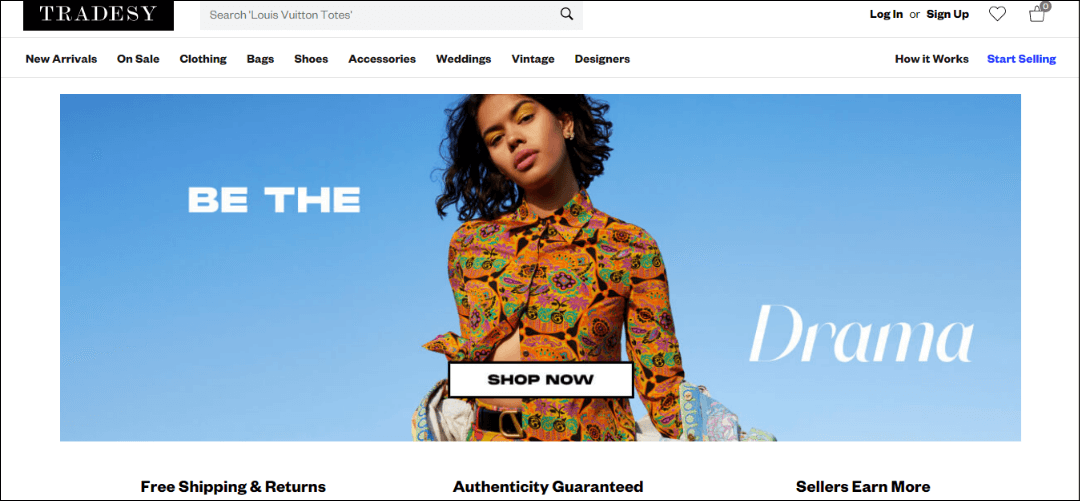 Since its inception in 2012, Tradesy has taken the consignment industry by storm. They are a woman-owned business that sells brand-name, high-end apparel and accessories for 90% less than retail.
They also make dealing more manageable and put more money in the seller's pocket by charging flat fees that do not change with the item's price. Tradesy receives $7.50 on each purchase that is less than $50.
They deduct 19.8% of the total amount of the sale is above $50. This puts a large portion of the profit in the seller's pocket. Clothing from companies ranging from Zara to Louis Vuitton is accepted on Tradesy.
Create an account, add photographs, establish your pricing, and submit your listings to get started. Tradesy will make your photos appear more professional by enhancing them.
It will also handle returns if the customer decides to return your goods. For things that sell for less than $50, Tradesy charges a flat fee of $7.50, with a commission rate of 19.8% for items that sell for more.
3. Depop
Were you looking for one-of-a-kind, vintage, next-generation pieces? Do you have a specific style that you'd want to sell? Depop is an online marketplace for young, innovative clothes.
This site is fantastic if you're seeking one-of-a-kind products or if you have a wardrobe full of one-of-a-kind stuff and are looking for like-minded consumers. Depop distinguishes out as one of the most popular consignment stores for teenagers and young adults, which is unusual in online consignment.
Depop is a smartphone marketplace with more than seven million users who buy and sell clothes, artwork, books, antique treasures, and other items. You may begin by uploading a picture of your clothing item and establishing a price after installing Depop on your iPhone or Android.
You may open a business if you have multiple goods to offer; you can also get customers by promoting your shop on social media.
There is no price to utilize Depop; however, the firm does charge a 10% commission fee if you make a sale. There is a small Paypal charge (currently 2.9 percent + $0.30) since transactions are made via Paypal.
4. Mercari
Are you looking for a way to sell many things on one platform? Do you want to stay away from strange percentages? Are you a sculptor or a painter? Are you looking for or selling gaming equipment?
Mercari is an easy-to-use, seller-driven marketplace that sells anything from gadgets to handcrafted products at low costs. Furthermore, Mercari charges a flat 10% fee regardless of how much you sell it, putting extra money in the seller's pocket.
This is an excellent choice for the varied seller and buyer seeking a broad range of products not often seen at boutique thrift stores. Mercari is an iPhone and Android software that allows you to purchase and sell items in the United States, the United Kingdom, and Japan.
You may list your products for free after uploading images of them. When your item sells, it will also give you a downloadable shipping label. By the way, you don't have to sell clothing on Mercari; you can also sell gadgets, sports gear, handcrafted things, and more.
5. Poshmark
With Poshmark, it is simple to create a list and submit images. The company charges a fixed fee of $2.95 for products that sell for less than $15. Poshmark takes a 20% commission charge on products above $15, and you retain the other 80%.
Poshmark is an open marketplace specialized in clothes and accessories for women, children, and men. It is consumer-driven, allowing customers to post products in real-time from the comfort of their own homes, examine the seller's profile before purchasing an item, and promote openness between sellers and buyers.
The inclusiveness of Poshmark accommodates a variety of stylistic choices as different as the vendors who use their platform. It certainly offers something for everyone, from bohemian to contemporary styles, whether buying or selling.
How to Sell on Poshmark?
You print out the Poshmark shipping label and drop it off at the mailbox before selling your item. When buyers get an item, they must check it before "accepting" it. After that, you'll be compensated.
Poshmark imposes a fixed fee of $2.95 for products valued at less than $15.
6. Storenvy
Consider starting a Storenvy shop if you have much stuff to sell. You'll receive up to 500 free listings and access to a community of millions of people.
You may retain all of your earnings if you establish your shop. Storenvy will charge a 10% commission fee if you sell to people via the Storenvy marketplace.
Jonathan Crawford established Storenvy in 2010 and has subsequently departed the firm when The Opensky Project acquired it in 2016. With the inclusion of Storenvy Marketplace in 2012, Storenvy grew from an online shop builder to an online social marketplace.
Storenvy aspires to be the "Amazon for independent store owners," allowing innovative small companies and merchants to sell their wares both in their shop and on an online marketplace.
7. Rebag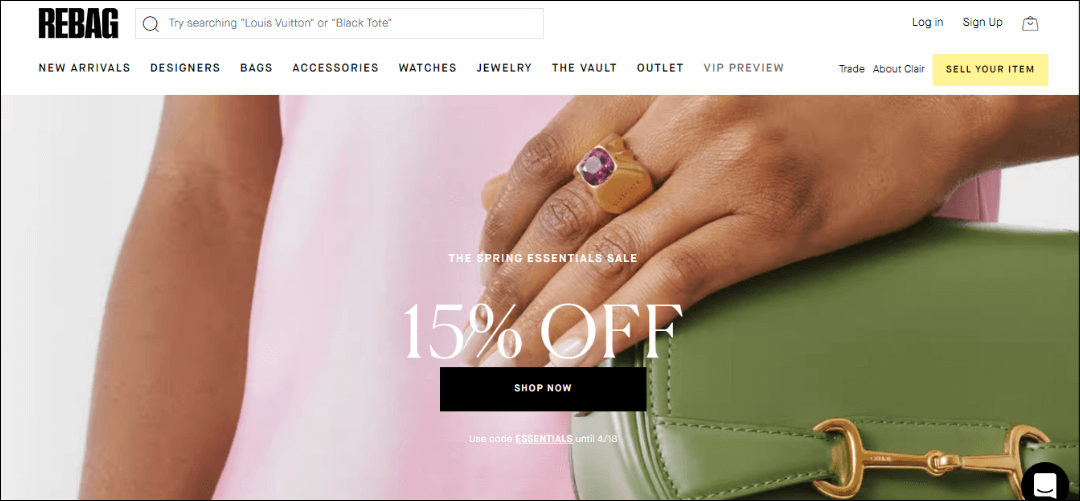 Rebag is a consignment shop that specializes in refurbishing high-end designer handbags. Are you looking for Gucci? Isn't Louis Vuitton a good example? Do you have a designer item that you're not sure how much it's worth?
Rebag's one-of-a-kind authenticity program enables you to research your item's past to determine its genuine value before selling it. Rebag is a welcoming platform where premium branding meets economic accessibility, whatever your designer needs may be.
Try your luck with Rebag if you have fashionable handbags to sell. You'll provide many clean photos of your bag, and Rebag will let you know whether or not it wants to buy it.
8. The RealReal
Sellers may request a delivery box with prepaid postage to send their clothing, similar to ThredUp. RealReal also provides an in-home collection of consignment things in select locations of the nation and consignment offices where consumers may bring their stuff to be evaluated.
A sliding scale is used to pay sellers. A 55 percent commission is paid on sales of less than $1,500, while a 40 percent commission is paid on products with an initial resale list price of less than $145.
If their yearly sales reach $10,000, top consignors get a 70% commission. The most outstanding fee on the site is 85 percent for watches with a resale list price of $2,500 or more.
After a year, items that haven't sold might be returned to the sellers at their expense. Unsold apparel is otherwise given to charity. Before sending in an item of clothing, get a price estimate online.
9. Crossroads Trading
Crossroads Trading is the place to go if you're looking for on-trend, near-new name-brand apparel. They not only sell and purchase, but they also encourage in-house trade.
Crossroads Trading also has a unique seller's guide that details the many sorts of apparel, patterns, textures, genres, and styles the business is presently evaluating. Crossroads Trading will pay you upfront if they accept your stuff, which spares the seller percentage and seller fees.
Crossroads is a consignment business with locations throughout the nation, about which you can find out more below. However, if you don't live near one of the shops, this business also allows you to sell old clothes online.
In a word, it wants clean and in excellent condition apparel that is contemporary and current.
10. VarageSale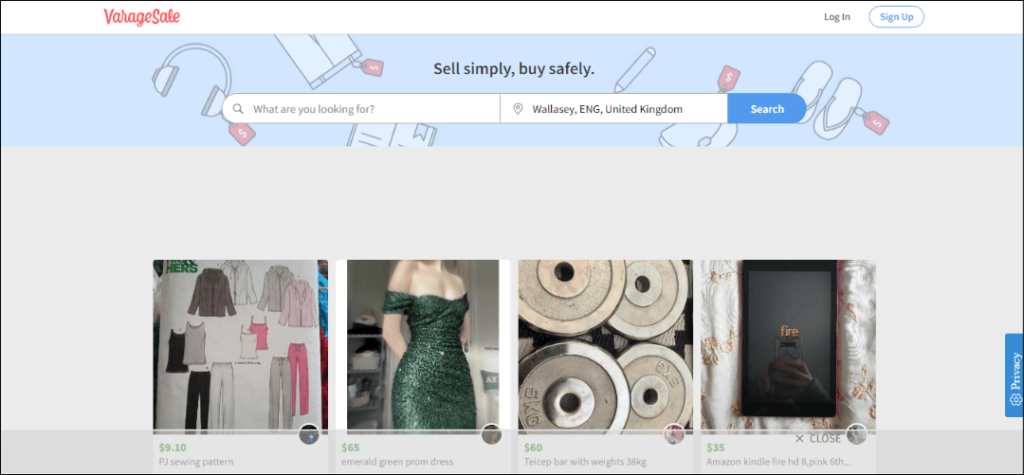 VarageSale seems to be a family-friendly version of Craigslist. It allows you to purchase and sell things with others in your community. You may post classified ads and interact with people in your area.
You are allowed to upload as many goods as you wish. Uploading photographs, creating descriptions, and establishing pricing will all be your responsibility. To complete a deal, you'll most likely need to meet in person.
VarageSale is a virtual garage sale that allows you to purchase and sell stuff in your local area. According to the business, it's the only app that verifies your identity, which means that everyone is subjected to a human review procedure before being allowed to use it.
According to my study, confirming entails checking your phone number and profile photo. Whether you're looking to purchase or sell, the app lets you explore current listings, see seller reviews, and filter your results to discover precisely what you're looking for.
If you want to sell anything, all you have to do is take a photo, give a description, and then confirm the specifics with a buyer to meet up in person.
11. Instagram
While you can't technically make purchases on Instagram, you may use the hashtag #shopmycloset to share photos of your items and connect with other interested people.
Many sellers will urge potential customers to bid in the comments section when using Instagram to sell used clothing online.
Instagram is typically accessed using an iPhone, iPad, or Android smartphone running the Instagram app. That means you'll have to use your phone or tablet to capture images and then post them using the Instagram app.
Make sure to include your shop logo while creating your Instagram account. Make sure the logo is readable on the phone by making it clean and bright. Shoppers will notice your logo in the little spot at the top of each post, near your account name.
12. eBay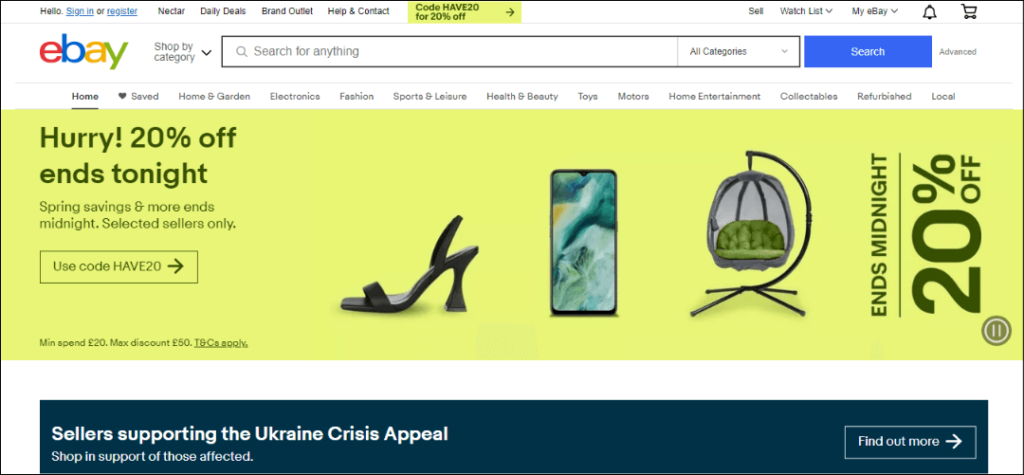 eBay is a reputable, long-running website that accepts various payment methods and provides complete access to rare and everyday things. eBay also has a more extensive selection of unique clothes and provides larger sizes.
Unlike most consignment stores, eBay has a bidding system that essentially allows customers to bid up to your item's price. eBay receives 10% of the final sale when the transaction is completed.
The eBay site is well suited for people seeking a specific buyer for specialty products, collections, old textbooks, rare books, or first editions.
You may create a store, add photographs, and write descriptions for your things. To ensure that your item appears in searches, be sure to select terms that people regularly search for. You decide on the pricing and whether or not to enable people to bid on your goods.
eBay charges a ten percent commission fee on most products, up to a maximum of $750. Your first 50 listings are free, after which you'll be charged $0.35 for each listing.
It's worth noting that both buyers and sellers are rated on eBay, so establishing a positive reputation (by correctly describing an item, delivering on time, and so on) is essential for long-term success.
13. Craigslist
Craigslist allows you to sell almost anything, so it should come as no surprise that you can buy and sell clothing there as well. You'll decide on pricing, add photos, and write a description.
If you receive any interested customers, you can choose whether to mail the item (and have the buyer pay you through Paypal or Venmo) or meet up in person to exchange it. (as well as requiring the customer to pay in cash).
You are free to choose your pricing and retain 100% of the proceeds. You have complete control over the photographs, descriptions, and transaction process.
You can have problems finding a customer on Craigslist since it isn't a clothing-specific site. To trade products, you may need to meet in person.
14. Shopify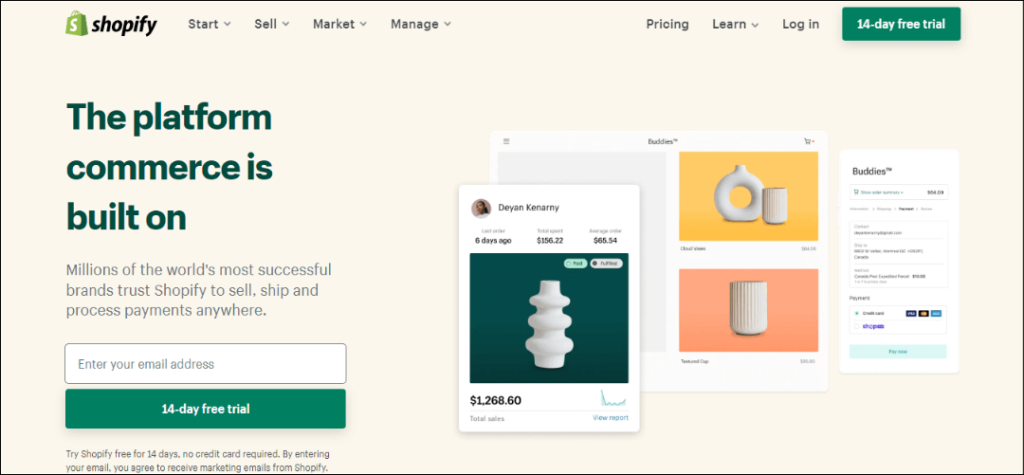 Consider Shopify for bringing all of your e-commerce channels together in one location if you're ready to start selling garments online as a full-fledged company. Shopify is designed for the "adventurous entrepreneur" who currently sells on eBay, Etsy, social media, and other platforms.
This e-commerce software assists you in bringing everything together, keeping track of sales, and completing orders. You may start selling garments online by using a platform like Shopify to create an eCommerce site.
Decide the garments you'll offer, upload them to your website, and set up a payment interface for consumers to make and pay purchases.
Shopify is the most effective platform for selling garments. Shopify is a simple eCommerce platform that allows you to create a shop and begin selling your goods quickly.
There are plans available at various pricing points and with multiple features to fulfill the demands of your company at every level of development.
The Shopify mobile app is the most okay app for selling garments. You may discover applications to sell new and used apparel in the Shopify App Store.
Print-on-demand applications, shopping apps, marketplace apps, social media apps, and specialized apps are some of the other apps that might help you sell garments.
15. Swap.com
Swap.com, unlike most other online marketplaces for old clothing, handles practically all of the legwork for you. However, this convenience comes at a cost. On their first purchase, new clients get free delivery. As a result, this is a fantastic method to check out the site without paying a shipping price.
When you sell with Swap.com, you pay $14.99 for a shipping label, then pack up your high-quality clothing, and they take care of the rest. They'll examine, photograph, list, and sell them on your behalf.
You will only get 15% off goods with a sales price of $8 or less. You will earn 70% of the sales price for products that sell for more than $8, but you will be charged a flat $4.95 processing fee.
When it comes to internet shopping, knowing which brands suit you best is crucial. Because you won't be able to try it on first, however, Swap also allows you to return stuff, so there's no need to worry.
I have a few favorite brands from Walmart, Kohls, and a few more retailers. I enjoy how they fit, and I can usually depend on them to be true to size.
16. Everything But The House
Everything But The House (commonly known as EBTH) is the place to go if you want to purchase or sell antique furniture and other household products. By arranging an online or phone consultation, consignors may offer a broad selection of décor, furniture, paintings, and other home items.
EBTH, like eBay, is an auction-based site, which means that once a customer creates an account, they may follow things of interest or put a bid—including a maximum bid for those who prefer hands-off bidding.
Online consumers may browse the inventory by category, popular and highlighted goods, and auction finish time, making it easy to find the right home accessories and the most excellent bargains.
Everything But The House is one of the favorite consignment shops because of its unique assortment of gently used antique home furnishings and hands-off consignment methods.
However, the site stands out because it allows consumers to search by area and choose a local pickup option—a feature that may significantly lessen your purchase's carbon impact.
17. Grailed
Many major online consignment businesses concentrate only on women's and children's clothing, ignoring menswear. Grailed compensates for what some other sites lack by offering a massive assortment of casual and professional apparel grouped by category, designer, style, and price for male buyers.
Grailed features labels ranging from Carhartt and Levi's to Gucci and Louis Vuitton, so whether you're searching for an on-trend cardigan or want to stock up on some essentials, Grailed has you covered.
Grailed also has much menswear from eco-friendly brands like Allbirds, Patagonia, and Everlane, making it simple to double down on green purchasing. You may also explore goods by style if you like a more vintage or minimalist aesthetic. Heroine, Grailed's sister site, has a womenswear section.
Grailed's consignment procedure is comparable to those of the other sites on our list; however, it is not as streamlined as thredUP and Poshmark. Nonetheless, Grailed is a simple approach to pare down your present clothing or create an eco-friendly outfit.
18. Re-SEE
Re-SEE is a marketplace app for buying and selling clothes. It's like Poshmark, but with many more articles of clothing to choose from! Re-See is great if you want to make extra cash or get rid of outgrown baby clothes or something you don't wear anymore.
You can also buy new items on there that are produced sustainably. However, the app doesn't have free shipping, so that's one thing to keep in mind before purchasing anything! Be sure to watch out for return policies too!
The best part about this app, though, is all of the different clothing brands they have listed – it's incredible how much variety they have! If you purchase any item, your estimated shipping is about $5 or less, which is a deal compared to most clothing shopping websites!
I think this app is beneficial for those who are looking to sell their clothes. It's easy and convenient because all you have to do is take clear pictures of your items and list them on the app.
If you want, you could even set your price with Re-SEE Credits so that people can buy credits first before purchasing your item directly.
I like how this looks over apps like Poshmark because it is so much more visually appealing. Plus, it shows that Re-SEE invested in their appearance to help sell their brand!
If you don't have any credits, you can still buy an item with your debit card or PayPal account, but they will take out a small processing fee from each transaction which adds up if you make multiple purchases per month.
However, if you can afford to buy credits with money on Re-SEE's website, this shouldn't be too much of a problem.
They have different brands and sell for less, which means I can make more money when selling things in the end. Another thing is that it's easy to design your storefront with Re-SEE because you can use their custom code generator to create a personalized website for yourself or for whatever purpose.
Then you can promote that website on Facebook with the embeddable share button on there too. It's easier to track customer data if you want to do business in the future! Check out Re-SEE today.
19. Buffalo Exchange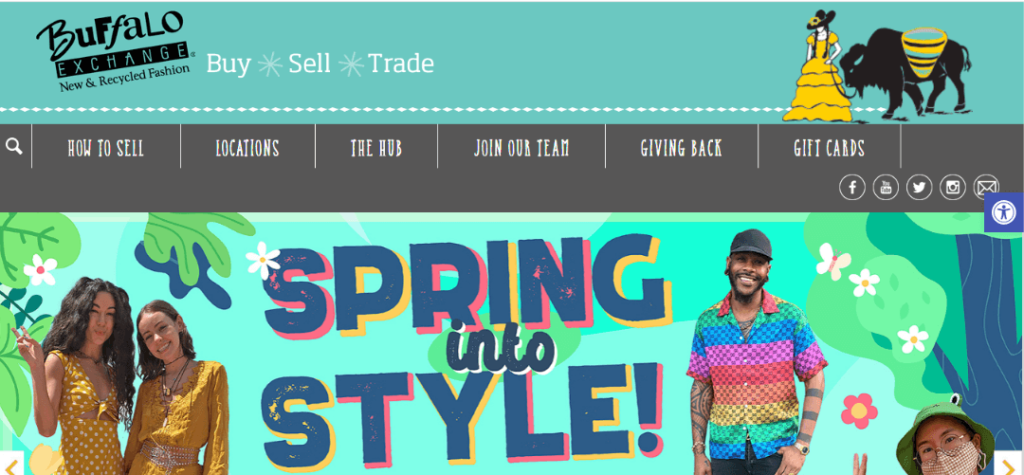 Buffalo Exchange was one of the first consignment stores to open, and it currently has sites in 20 states. Since 1974, the business has been one of the top locations for consignment shopping.
Because the company has several locations, desirable districts such as New York City's East Village and Los Angeles' La Brea are always worth visiting.
If you want to sell anything at Buffalo Exchange, it's first come, first served, and it'll be packed on weekends. Somewhat of placing your name on a list, you wait your turn in line at the California and New York sites I've visited.
If you want cash, you'll get 30% of what they're asking for your things, and if you wish to shop credit, you'll get 50%. When selling, you'll need to present your driver's license or another kind of identification.
They mainly accept lightly used designer names and hunt for products in season, so if it's summer, leave your winter clothes at home until October arrives. They may be fussy about what they purchase, in my experience. If the item isn't a brand name and is worn out, it's usually best to donate it.
20. Chairish
Chairish will send you your proceeds less their commission rate once it sells. The business offers advice on photographing and advertising your stuff. Your seller status determines the commission rate you get.
Your commission rate decreases if you go up to a higher selling level. The Chairish assistance center may also assist you with pricing.
Chairish is undoubtedly the most well-known online secondhand store furniture retailer. Chairish is growing in popularity, with roughly 3 million monthly users and 10,000 merchants. There is a decent variety of products, so not everything is utilized.
If you're looking for one-of-a-kind things like butcher blocks that you won't find anywhere else, Chairish is the place to go. From furniture to wall art to outdoor decor, they have it all.
21. Letgo
Letgo is an app that connects people who want to sell items with people who need them. It's like craigslist but more elegant and allows you to post the picture(s) of your article in addition to the description.
It lets you connect with others through chat or in-person for a smooth transaction. Letgo is a free app available for download on the App Store and Google Play.
First, you need to sign up to use Letgo. After you've signed up, go ahead and take a look around. Then, start looking for items you'd like to sell or things you want to buy.
If you're selling something, be sure to post explicit pictures, including close-ups of essential features (like the texture on a pair of shoes).
The more information and pictures, the better! If interested buyers message you, you can chat or send them your number to set up a meeting.
If you're looking for something, you'll want to make sure the post includes detailed pictures of the item (so you know what you're getting) and accurate prices (so there's no confusion). If a seller responds to your request, be ready with a list of questions about the product.
Now you're ready to buy and sell on Letgo! It's that simple.
How Does Letgo Work? Letgo allows you to post pictures of your item in addition to the description. You can then connect with others through chat or in-person for a smooth transaction.
22. OfferUp
Anyone can buy and sell with just a few taps on their phone. While Craigslist is still very popular, there are also other shopping apps people use. One of these apps is OfferUp. You can sign in and buy and trade with ease. You can find deals on everything from clothing to furniture.
If your city is big, it is more convenient to use OfferUp rather than Craigslist or another shopping site because you can almost always find anything you need.
The availability to buy and sell with ease also offers a lot of conveniences. You will find deals on clothes, electronics, etc. Also, the selling is very safe.
Since OfferUp has everything linked to your phone number and your Facebook account, it's challenging for anyone else to use your information if they were to hack you.
Furthermore, the app is available in every country, and the selling and buying process doesn't differ. The app is also getting much more prevalent in many countries, so anyone using it has a lot of opportunities to buy and sell things with ease! It's like the "Craigslist" app.
If you live near where there are very few people, you might not be able to find as many people on the app, but if you live in a big city, you can buy or sell anything!
23. LePrix
LePrix is an online market where users can buy, sell and trade items. It's the go-to place for making deals on anything. If you'd like to offer something of yours for sale, start by creating a listing! Beginners are encouraged to use the "offer" service to sell their items.
LePrix is never directly involved in any transactions between users. Individuals handle all exchanges.
LePrix merely provides a platform for these transactions to occur if you run into problems with another user regarding payment, shipping, or anything else related to your dealings with that person.
LePrix is a place to buy and sell things. If you're worried that someone might be breaking the law through their actions on LePrix, you can contact them with the details of your concern so that they may handle the issue appropriately.
If you've had trouble with another user or activity on any of their sites, don't hesitate to contact support for the relevant site.
24. Style-Encore
Style-Encore is a consignment store located in Palo Alto and San Carlos, California. They specialize in designer clothes, shoes, and accessories for women and men.
The company was founded by Janice Murphy, who used her expertise as a former buyer for Nordstrom to curate the inventory.
The goal of Style Encore is to offer high-quality clothing at affordable prices: 30% – 90% off retail prices on average. All items are new or like-new, without missing tags or packaging materials.
As you browse through the racks at Style-Encore, the staff will ask if they can help you find something specific such as "dresses under $100" or "black heels." There's also a scanner on the ceiling to help them find any particular article of clothing you're looking for.
First, the items will most likely be in better condition because they've been inspected by Style-Encore staff and cleaned if necessary (thrift stores also do this, but this step may not always happen due to time/labor constraints).
Second, most clothes are brand new or "like-new," whereas, with thrift stores, you will usually find used clothes that can sometimes be worn and torn or stained.
Finally, Style-Encore offers shoes up to size 14, which you won't find at many thrift stores. So yes – it's different, but I wouldn't necessarily say it's better.
Style-Encore items cost more than what you would find at a thrift store, but they tend to be in better condition and not as dusty or musty-smelling (which is probably because they're inspected and cleaned before being brought into the store).
Some customers return items on consignment after wearing only once; others do so after multiple wears.
But unlike most consignment stores, sales associates will stay with customers while they check out and make sure all tags are removed: including those for pants pockets! This level of service makes it hard to go back to regular thrift stores again.
25. Plato's Closet
Plato's Closet consignment store is an online business that allows you to sell clothes to make money from them. This company introduces itself as a buying and selling enterprise that will enable you to get rid of the old and used clothes that no longer fit or because they don't like anything in particular.
You can also bring new items before something else in case there are similar items in your closet. All that is available in your wardrobe should be sold in these cases, so you do not have to spend more time wondering why they are still there.
What can be sold on Plato's Closet? According to the site, it is preferable to sell formal or elegant clothes because they are most in demand. Usually, women of all ages attend this store, so there is no need to bring clothing items for teenagers or young children.
However, sellers appreciate children's accessories such as shoes and socks, so you should not hesitate to use them.
You can also sell men's clothing, but remember that they do not usually buy used clothes at high prices since most customers are looking for new items at a lower price than retail stores.
Plato's closet accepts the following types of clothing:
Dresses
Blouses
Jackets
Tops
Pants
Suitcases
Shoes and boots
Payments are made on the day of the transaction in cash or credit card. The credit card is preferred for online transactions because it reduces risk when buying clothes on consignment since Plato's Closet will take care of everything if this happens to be a scam.
As part of Plato's Closet consignment store rules, you are not allowed to sell undergarments, sanitary items, or bathing suits that have been worn unless they are new ones with tags still attached or in excellent condition with no signs of use at all.
This type of clothing is usually only accepted with pre-approval from management staff who has seen it first hand before you can make an appointment. You can also sell on Plato's Closet if you have designer brands, but first of all, it must be authentic.
Secondly, this type of clothing usually demands a high price, so the seller will need to contact management who has experience dealing with these products.
It is not advised to use them because you are likely to be disappointed by how your clothes are valued since some people may think they are fake, damaged, or just worthless.
However, some items that cannot be sold at Plato's Closet online store include underwear, bathing suits, and any clothing item that has been worn or used once.
But sometimes, even these types of merchandise are bought here if the quality of the clothing is excellent and the price you set is meager. Thoroughly inspect your items before bringing them to Plato's Closet so as not to waste time by charging high fees for those who will reject them.
Which Platform is best: Depop, Poshmark, or Mercari?
Deciding on the best platform to sell clothes online is a personal journey that requires you to weigh in on your selling goals, target audience, and the types of items you want to sell.
Each platform – be it Depop, Poshmark, or Mercari – has its own quirks and specialties, and the one that works best for you might not work for someone else.
That's why it's crucial to give each platform a shot and try out different strategies to see which fits your style and goals best.
After all, the platform that's right for you is the one that helps you reach your full potential as a seller. So, dive in and discover the best platform for you today!
Why Should You Consider Selling Clothes Online?
Are you tired of the same old 9-5 grind? Ready to make a change and turn your passion for fashion into a thriving business? Then it's time to consider selling clothes online!
By setting up shop online, you can reach a global audience from the comfort of your home. No more rushing to the store during your lunch break or sacrificing quality time with your family to tend to your business. You can manage your online store anytime, anywhere, with an internet connection.
And the best part? Starting an online clothing store is more cost-effective than opening a brick-and-mortar store. You can start small and grow your business as you gain more customers and sales.
But wait, there's more! A well-designed website and a killer marketing strategy can help you reach a larger audience than you ever could with a physical store. This increased visibility leads to more sales and greater brand recognition.
And let's talk about flexibility. When you sell clothes online, you have the ability to offer a broader range of sizes, styles, and colors. This means you can appeal to a diverse customer base and boost sales.
Finally, online sales platforms provide valuable data about your customers, sales, and marketing efforts. This data helps you make informed decisions about what products to stock, how to price your items, and how to effectively market your business.
So, why settle for a tedious job when you can turn your love for fashion into a thriving online clothing store? The world is waiting; take the leap and start your e-commerce journey today!
What Is the Easiest Way to Sell Clothes Online?
Ready to turn your fashion finds into cash? Fantastic! But where to begin?
Well, buckle up because I've got some good news for you – selling your threads online is a piece of cake! The quickest and simplest way is by opening a shop on a trusted marketplace platform like Tradesy, eBay, or Etsy.
With millions of shoppers already on board, you'll have an audience waiting for you. And the best part? They handle all the technical stuff, so you can focus on what truly counts – displaying your clothing and closing deals.
But wait, there's more! If you want complete control over your brand, opt for a dedicated e-commerce platform like Shopify or BigCommerce. Design your website flawlessly, and run the show as you see fit. And don't sweat the technical details – these platforms have covered you.
No matter which route you take, snap high-quality photos and craft concise descriptions of your garments. And pay attention to the power of customer service! Respond promptly to inquiries, and go above and beyond to guarantee a delightful shopping experience for your customers.
So, that's it! The easiest way to sell clothes online is just a few clicks away. You must choose your platform, set up shop, and watch the profits roll in. Happy selling!
Is Selling Clothes Online Worth It?
"Still on the fence about selling clothes online? Let me convince you why it's a smart move.
Picture this: you can reach customers worldwide with just a few clicks and tap into a massive fashion market that is always eager for new, stylish pieces.
Plus, setting up online is super affordable compared to opening a physical store. There is no need for a significant investment; just start small and grow as you make more sales.
And the data? Oh, the data! You'll have access to valuable insights about your customers, sales, and marketing efforts. Use this information to make informed decisions and watch your online clothing business soar.
In short, selling clothes online is convenient, low-cost, and offers a global reach. And who doesn't love a little extra cash? So, don't wait any longer; start your online clothing empire today!"
Tips To Help You selling clothing online
Hey there, fashionista! Are you ready to take the online fashion world by storm?Before you jump in, make sure you're setting yourself up for success.
We've got you covered. Our experts have a few insider tips for selling you won't want to miss before you start selling on any of these resale platforms.
Make sure to listen up and give yourself the best shot at success. Here's a list of 11 tips to help you succeed:
Build a Dazzling Online Store: Your first step to success is to have a platform where customers can easily browse and purchase your stylish pieces.Choose to sell on popular marketplace platforms like Amazon, eBay, or Etsy, or create your own website using e-commerce platforms like Shopify or BigCommerce.
Know Your Fashion-Forward Target Audience: To be successful, you need to understand your target audience. Who are they? What do they love and prefer in terms of fashion? Knowing your audience enables you to craft a store that caters to their desires and needs.
Showcase with Stunning Images: High-quality images are a must to showcase your fashion pieces. Ensure your images are clear and bright and show your clothing from all angles. Invest in good lighting, a decent camera, and a mannequin or model to showcase your clothing in the best possible light.
Quality is Key: No one wants to receive a piece of clothing that's stained, torn or has holes. Before listing your clothing for sale, ensure it's in tip-top condition, including washing or dry cleaning, repairing any damages, and steaming or ironing to make it look its best.
Write Eye-Catching Product Descriptions: Your product descriptions are your chance to sell your clothing to potential customers. Make sure your descriptions are clear and concise and highlight the key features and benefits of the clothing. Use keywords that your target audience is searching for, and make sure your description accurately reflects the condition of the clothing.
Offer Prices That Can't Be Beat: Price is a critical factor in online shopping, so make sure your prices are competitive. Research other online stores to see their pricing for similar clothing and adjust your prices accordingly. Remember to factor in shipping and handling costs when setting your prices.
Keep Track of Your Finances: To ensure the success of your business, it's crucial to keep track of your expenses. Keep receipts for all purchases and track your expenses in a spreadsheet or accounting software.This will help you stay on top of your finances and ensure your business is profitable.
Provide Unbeatable Customer Service: Customer service is a crucial factor in the success of any online business. Respond to customer questions and concerns promptly, and go above and beyond to ensure your customers have a fantastic shopping experience. Consider offering free returns or exchanges or adding a personal touch like a handwritten note with their order.
Harness the Power of Social Media: Social media is a powerful tool for promoting your clothing store. Use platforms like Facebook, Instagram, and Twitter to showcase your clothing, engage with potential customers, and run promotions and contests to drive traffic to your store.
Offer Promotions and Deals: Offering promotions and discounts is a great way to drive sales and attract new customers. Consider offering discounts on clothing, free shipping, or running a contest or giveaway to generate interest in your store.
Continuously Evaluate and Grow: Finally, it's essential to constantly evaluate and improve your store. Keep track of your sales and customer feedback. Use this information to make changes to your store that will increase sales and enhance the customer experience. Try new marketing strategies, experiment with different pricing, and stay ahead by keeping an eye on your competitors.
Selling clothing online is a fantastic and profitable venture, but it takes effort
Other places to sell clothes online (Trend)
Selling clothes online has always been challenging, with a host of options for fashion lovers and entrepreneurs to choose from. Make sure to expand beyond just Amazon and eBay and explore platforms that cater specifically to fashion and apparel.
These niche sites are your chance to shine, showcase your clothing and reach a new audience of customers. Get ready to take the fashion world by storm with these four must-see platforms:
26. Vinted 
This European-based marketplace is the go-to spot for gently worn pieces that need a new home. With over 50 million members, Vinted is a customer-rich environment and a user-friendly platform that makes selling a breeze.
27. Etsy
This global bazaar is renowned for its handmade goods, vintage finds, and crafting supplies. But it's also the place to be for those seeking to sell one-of-a-kind clothing items.
With 60 million active buyers, Etsy is the perfect platform for vintage or handmade clothing sellers.
28. CafePress
Unleash your creativity with CafePress, a platform that lets you create custom products and designs, including clothing.
Whether you design your own pieces or sell others', CafePress offers a wide range of products, from t-shirts to hoodies and beyond, making it the ultimate platform for selling personalized and unique clothing.
Redbubble: This online marketplace is the ultimate destination for artists and designers looking to sell their work, including clothing and accessories.
With a range of products from t-shirts to phone cases, Redbubble showcases bold and eye-catching designs that will make your work stand out.
Redbubble is the ideal platform for artists and designers seeking to reach a new audience and sell their creations.
These four platforms offer endless opportunities to sell clothing online. Whether you're looking to unload gently worn pieces, showcase handmade or vintage finds, or sell designs and merchandise, these platforms are your ticket to success.
With a bit of research and determination, you'll find the right platform for you and easily find your way to selling your clothes online, and make some extra cash in no time!
How To Sell Clothes Online – Conclusion
So, before you can take another glance at your overstuffed closet, start removing all of the clothing you don't use and selling them at one of the consignment stores suggested in this article.
You have many possibilities for recycling old clothing and making some additional cash, whether you choose the online or in-store route.
Clothing in quantity is the ideal item to sell — most businesses take up to 50 items at a time. Make sure your garments are well-presented (don't throw them in a black garbage bag). Newish shoes are also one of the most popular products since their retail price is higher than certain outfits.
Specialty consignment businesses might give you a better value than some generic retailers if you have the right clothes. Also, if you're consigning an item that you know is worth more than what the shop is providing, instead of taking cash upfront, don't be afraid to ask for a profit-sharing arrangement.
If you don't need the money right now, waiting until it sells might occasionally net you extra money. You might also take advantage of an in-store credit.
| | |
| --- | --- |
| | The content writers' team at ElmundoDeals is continuously contributing to the writing of high-quality content regarding Making Money, Saving Money, Product Reviews, E-commerce, Affiliate Marketing, Banking & Investing, as well as looking for the Best available Deals. |