Best Websites To Sell Art Online And Make Money
Are you a passionate artist looking to make some extra money by selling your artwork online? If so, you've come to the right place.
With hundreds of platforms available for artists to display and sell their work, it can take time to figure out which one is best for you and how to get started.
In this blog post, we are going to give an overview of our top 13 sites for anyone wanting to sell art online and make money from their creative endeavours.
So whether you are running a small business or just creating work in your free time, these websites provide endless opportunities for budding digital entrepreneurs and graphic designers alike.
Keep reading if you want to discover more about the best places on the internet where you can conveniently monetize your artistic skills and talents.
What Are The Best Websites To Sell Art Online And Make Money?
There are the 13 best Websites To Sell Art Online And Make Money.
1. Etsy
Etsy is an online marketplace for handmade products, vintage items, and craft materials. It's a great platform to sell custom artwork, prints, paintings, glass art, fibre arts, drawings and illustrations, photography – you name it!
Starting your Etsy store can be an attractive way to make money selling art prints and other creative products. Etsy has millions of users worldwide searching for one-of-a-kind pieces with quality craftsmanship that only comes from passionate creators like yourself.
All you need is a knack for creating something unique or bringing back old classics in new ways – plus some ambition and effort.
Of course, there will be competition on Etsy, but with the right approach, your shop will succeed. Setting up strategic marketing campaigns to draw attention to your designs or curating collections of bestsellers can help set you apart from other shops as well as getting social media accounts in order (Facebook page? Twitter? Instagram?) so people have direct access to what's available at your shop.
2. Society6
Society6 is a popular online marketplace for artists to sell their art prints, wall art, clothing, phone cases and other products. All you have to do is upload your artwork, and Society6 will handle the rest – from printing it out using print-on-demand service (no minimum orders) to shipping it out directly to customers.
Plus, Society6 provides a variety of tools and features to help drive sales, such as dedicated original art galleries and collections, discounts for bulk orders, and even an artist referral program. Society6 also has a rewards program that gives customers 10% back on each purchase – which is excellent motivation for buyers to continue purchasing more products from you.
3. ZAZZLE
Zazzle is a creative platform that offers artists the opportunity to create and sell custom products like t-shirts, mugs, phone cases, greeting cards and more. With Zazzle's easy-to-use tools, you can upload your artwork and customize it into any product imaginable – plus, there's no need for inventory as all purchases are made on demand.
What's great about Zazzle is that it offers more diverse selling options than other art websites. You can create products with your artwork on them or even offer digital downloads such as wallpapers and logos, which can be a great way to make passive income money selling art online.
What's more, you can set up an affiliate program to earn commissions when other people promote your products.
4. Fine Art America
Fine Art America is a great online marketplace for artists to showcase and sell their work. It offers a wide range of services, including printing on demand, shipping and fulfilment, website hosting, marketing support and more – all at no cost to the artist. Fine Art America also offers discounts for bulk orders, free samples to prospective buyers, and rewards programs for regular customers.
What's great about Fine Art America is that it integrates with other popular online art marketplace websites like Etsy, Amazon and eBay, so you can easily cross-promote your products on multiple platforms.
5. Saatchi Art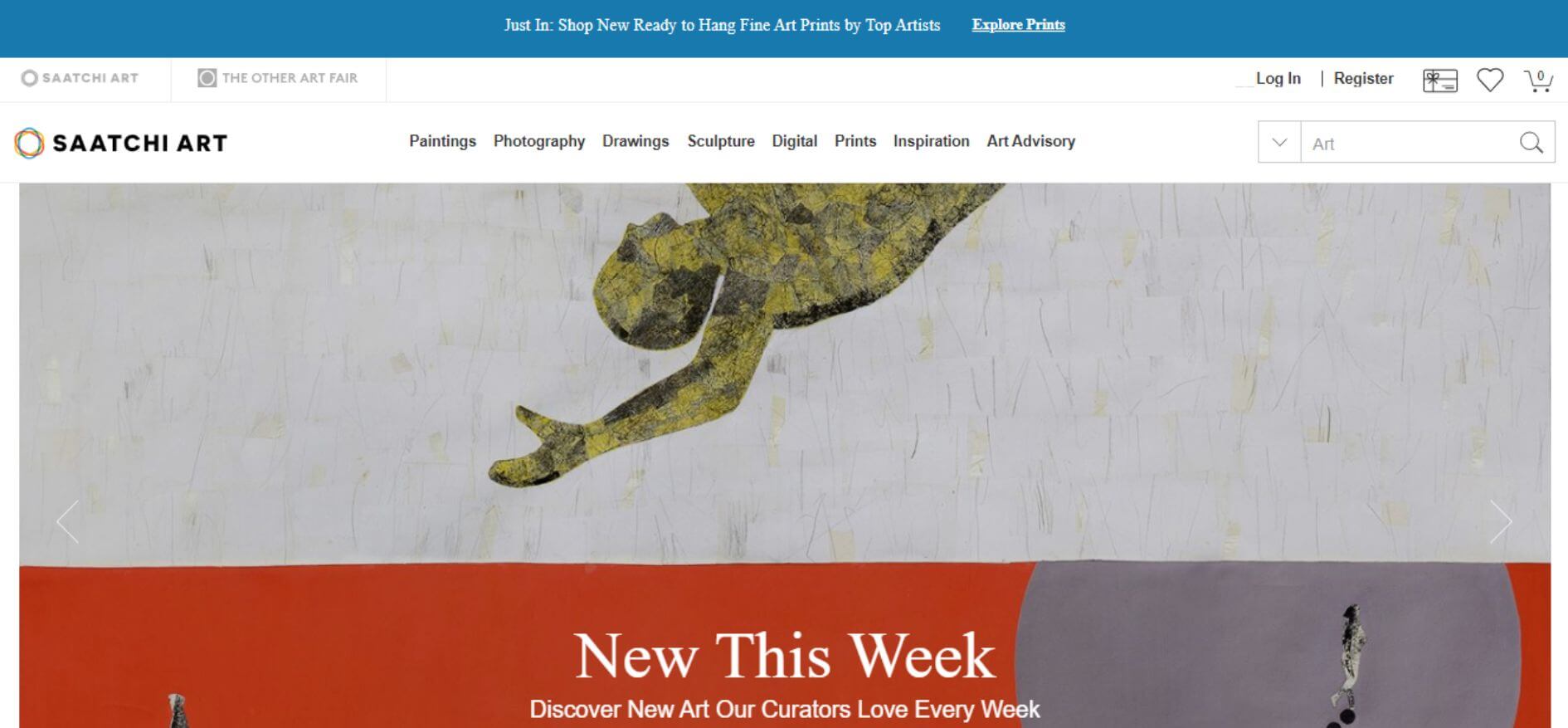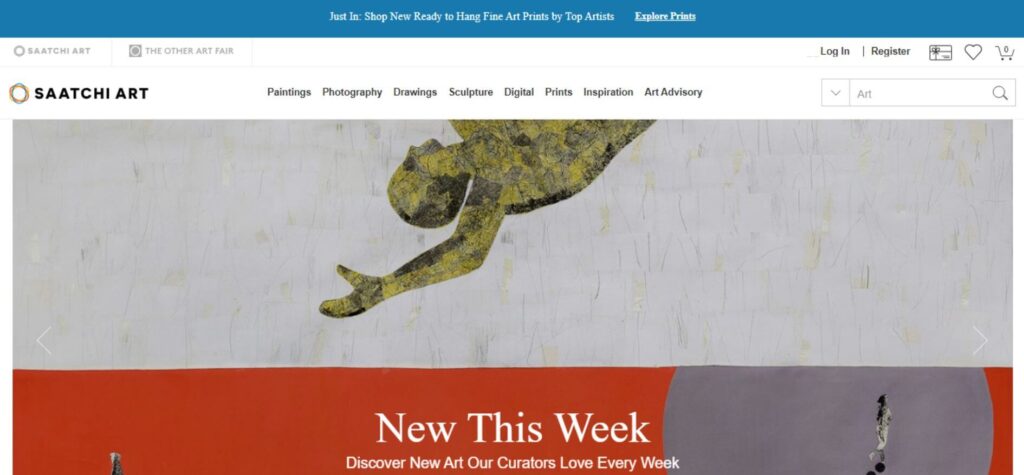 Saatchi Art is an online art gallery for established and emerging artists wanting to show and sell their work. It has a curated selection of over 500,000 pieces from around the world, plus it offers a variety of services like custom framing and shipping – all completely free and at no cost to you.
What's excellent about Saatchi Art is that it allows buyers to purchase original artwork from over 70 countries. It will enable you to reach a wider audience of potential art buyers and increase your chances of making more sales.
6. eBAY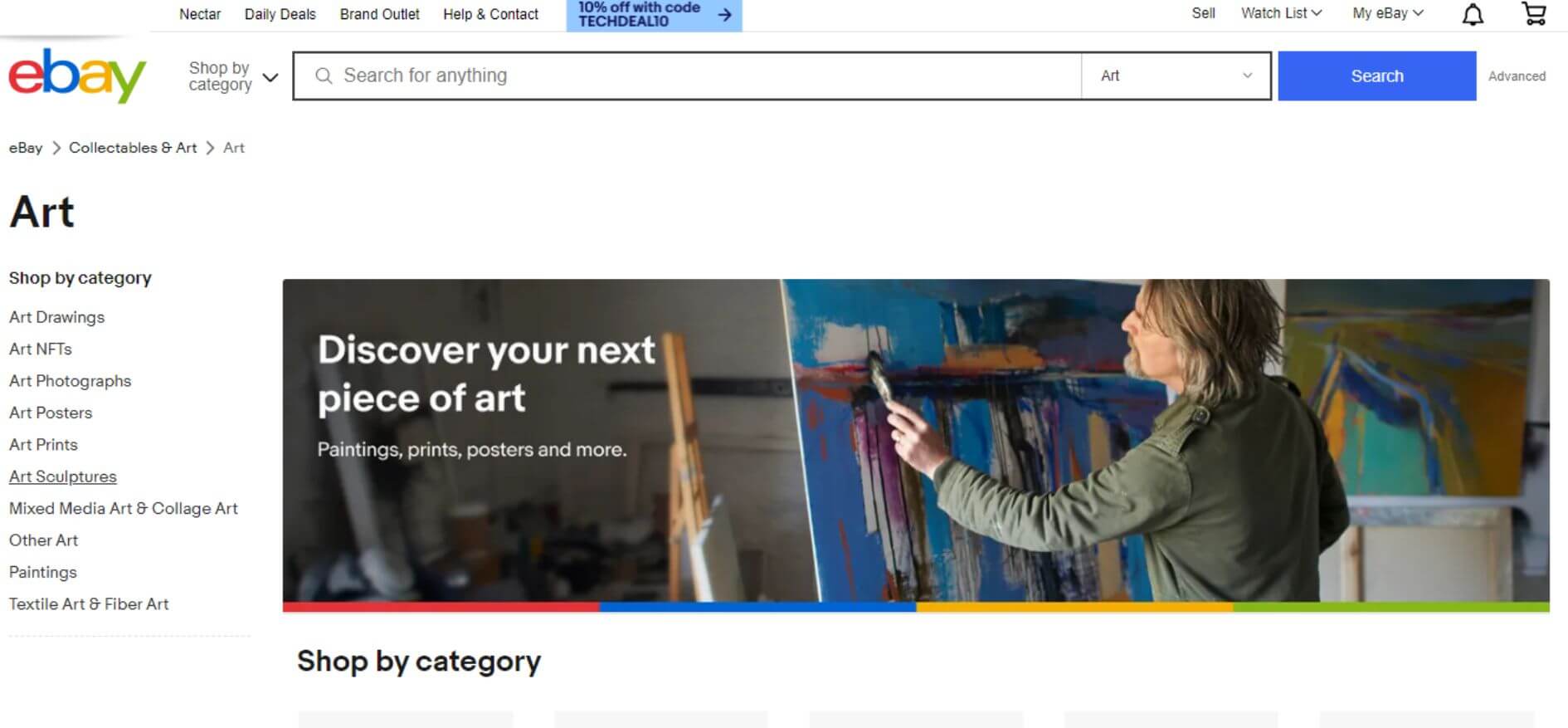 Setting up an eBay seller account is simple and quick, and once you're all set up, you can start selling your art prints in no time. With an eBay seller account, there are two ways to sell your art prints: "Buy Now" and auction.
The "Buy Now" art fairs option means buyers can purchase the prints from you immediately with a single payment, while the auction option gives buyers more flexibility as they can place bids on items within their budgets.
With either option, you have control over how much profit you make on each sale. When creating listings for your art prints, it's important to include detailed descriptions, as potential customers should know exactly what they are buying before clicking that purchase button!
Additionally, ensure that images of the product being sold are included in each listing – high-quality photos can really put off customers if poor-quality ones are used instead!
You also need to consider the fees associated with using eBay before getting started – this includes a 10% commission fee taken from each successful sale, listing fees, insertion fees, final value fees, postage costs, membership fees, payment processing charges etc…
7. ArtPal
ArtPal is an online art gallery for artists to sell their prints, paintings and sculptures. It has a simple setup process – all you have to do is sign up, upload your artwork and start selling! ArtPal provides services such as pricing control, website hosting and customer support at no cost, plus it offers a variety of payment options for customers.
What's great about ArtPal is that it allows buyers to pay for their purchases using PayPal, credit cards, debit cards or Apple Pay. Additionally, you can set up an affiliate program so other people can promote your artwork and earn commissions from sales they refer. This can be a great way to increase your exposure and attract more customers!
8. Shopify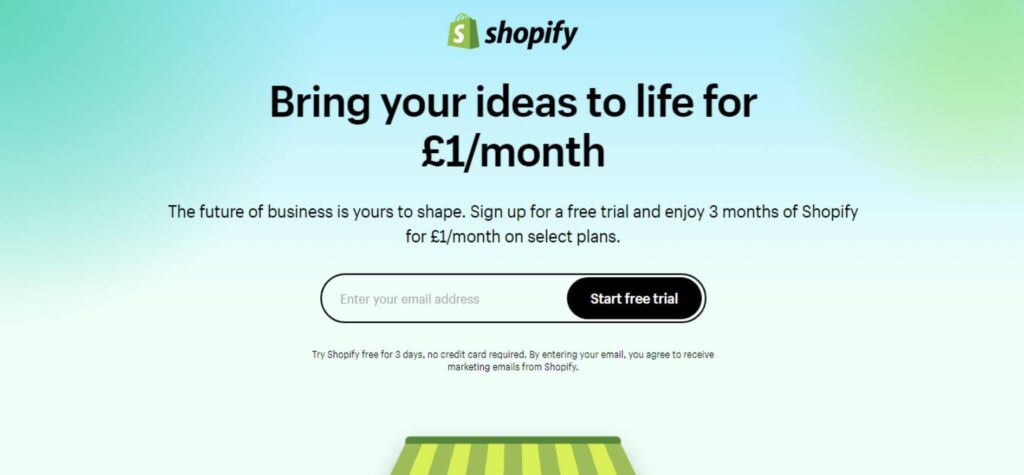 Shopify is a fast, easy and reliable e-commerce platform that allows you to quickly create an online store or grow an existing business. Shopify's intuitive user interface makes setting up a beautiful online storefront in minutes incredibly simple.
Best of all, they offer a 14-day free trial to see how the system works before committing to any plan.
Their three plans – Basic Shopify ($29/month), Shopify ($79/month) and Advanced Shopify ($299/ month)- are tailored towards different types of businesses, ensuring each business owner gets exactly what they need without being overcharged.
The basic plan is perfect for new artists or those just starting with their own online store or retail stores, while the second plan has plenty of features to help established art businesses reach new heights. Finally, the advanced plan provides more features for more significant e-commerce sites and those with large followings already in place.
9. Storenvy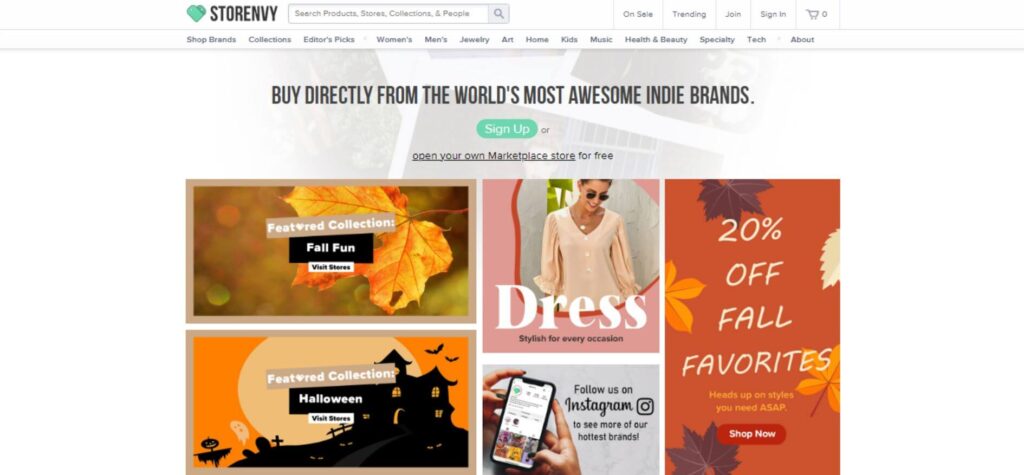 Storenvy is an innovative e-commerce platform for online art businesses, giving artists the ability to launch a shop and market their work in an entirely new way. It takes all of the traditional tools used by e-commerce stores and puts them under one roof, making it easier than ever to create a successful online shop.
To start with, Storenvy provides its users with everything they need to set up their store – from adding product listings to customizing and branding the store's look. Plus, Storenvy integrates a unique social marketing platform that enables you to connect your shop with potential customers on popular networks like Twitter and Facebook.
This feature ensures that more people can see your products quickly, which is great if you're just getting started as an artist and have yet to have much of a customer base.
What makes Storenvy stand out even more is its integrated Vote & Envy system – or "V&E". It works kind of like 'likes' on social media; when people 'envy' or vote for your product(s), it increases your presence on both search engines and the actual website itself!
Each time someone votes for something you post, it gets re-shared directly from your store page onto other people's feeds – this helps ensure maximum exposure of your artwork across multiple platforms.
10. Square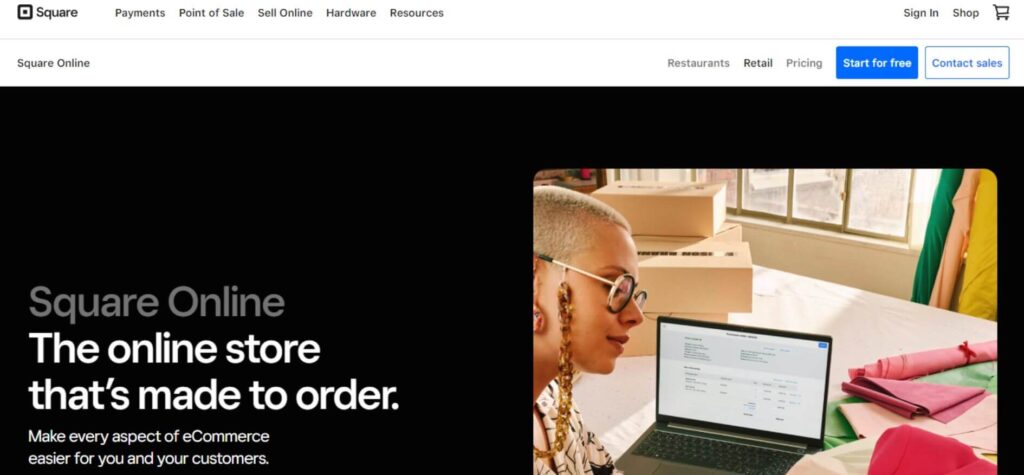 Square, also known as Square Up, is an e-commerce platform for businesses to reach their customers online. It's perfect for independent art sellers who want to start a new business or expand their in-person store. With Square's Free selling plan, you can set up an online shop absolutely free – all you have to pay is the payment processing fee of 2.9% plus $0.30 per transaction, which is very low compared to other platforms for online sales today!
If you are looking for even more features and tools to help grow your business, Square offers two additional plans: the Plus and the Premium plans. The Plus plan gives access to more features than the Free Plan at only $60 monthly, making it ideal for bigger businesses just starting on Square or those expanding already established companies with it.
The Premium plan allows you even more tools and custom pricing options, with premiums increasing if you make over $250k in annual sales – excellent if your store experiences high daily volumes of transactions.
11. FolioLink
FolioLink is an online portfolio service that helps artists create and manage their portfolios on a professional level. It has a wide range of features, including a simple drag-and-drop interface, customizable template designs, multiple image uploads, SEO optimization tools and the ability to add audio and video media files.
The platform also provides an online store where artists can sell their artwork directly to customers, as well as a 'Buy Now' button. It allows customers to quickly purchase pieces from the artist's portfolio and have them shipped to their doorsteps without any hassle.
FoliLink also has a suite of analytics tools that let users track their own website performance in real time, providing significant insights into the success of their portfolio and helping them make even more informed decisions about how to market their artwork.
12. Weebly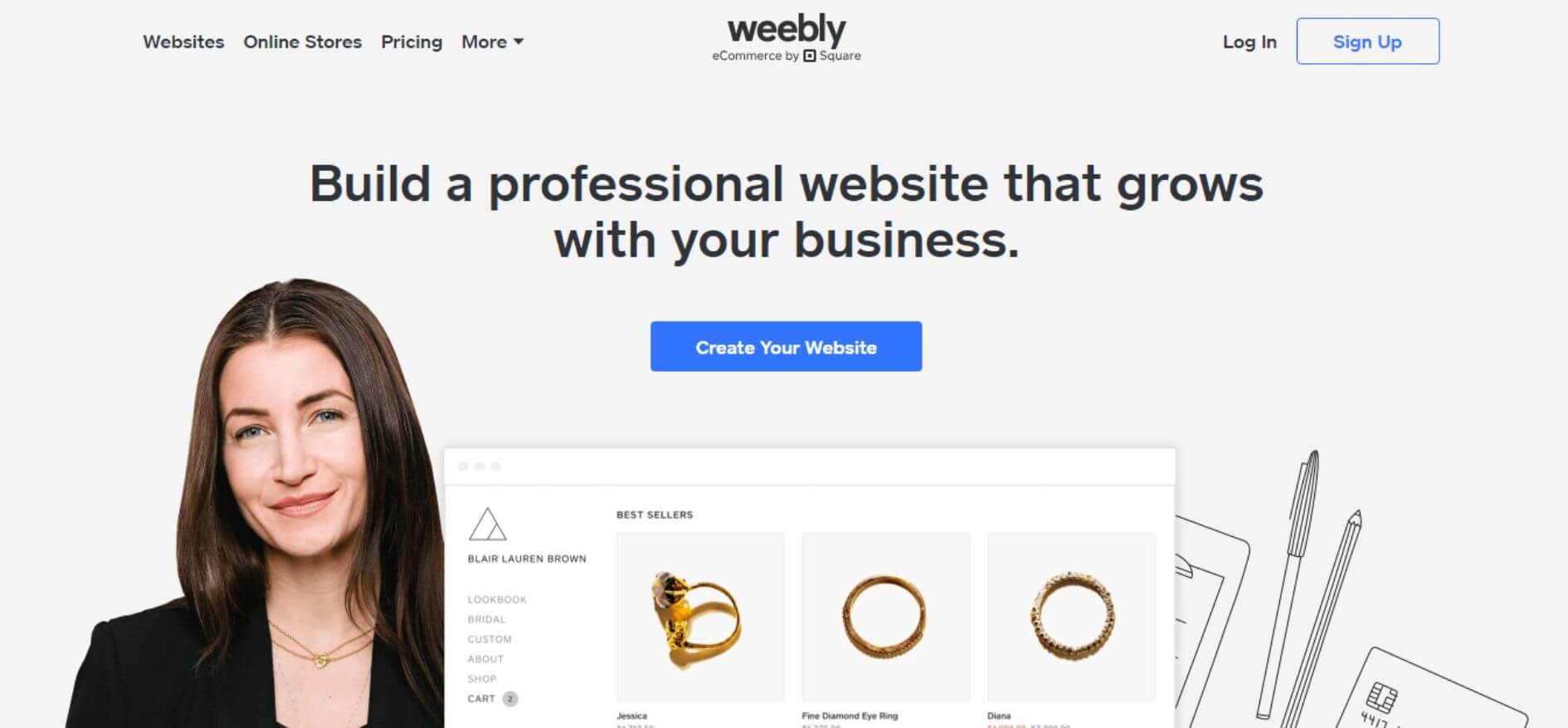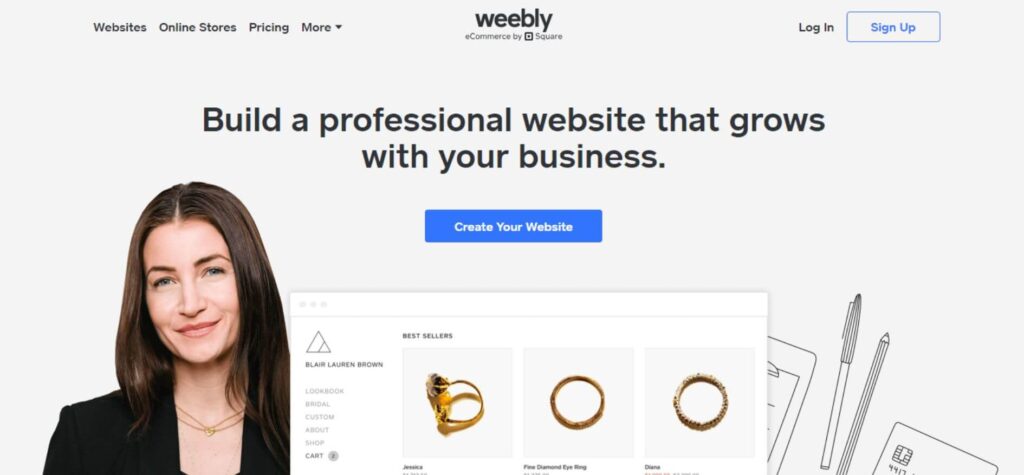 Weebly is an all-in-one website-building solution allowing users to create stunning websites easily. It offers a selection of customizable themes, professional templates, drag-and-drop design tools and powerful blogging features to help make building an art website straightforward.
Weebly also provides a store solution that artists can use to quickly set up their own store on the platform and start selling artwork immediately. It has powerful e-commerce tools, including inventory tracking, custom shipping methods, multiple payment options and more.
The Weebly platform is straightforward to use, and it's perfect for those just starting with their art website who want to avoid getting bogged down in coding or design. Plus, Weebly offers plenty of customization options so you can make sure your store stands out from the competition.
Benefits of Selling Artwork Online
Here are some of the advantages of selling your home decor and artwork online:
FAQs On Best Places To Sell Your Art Online
Where can I sell art fast?
Square is one of the best platforms for quickly starting selling art online, as it provides users with a free plan and allows them to set up an online shop almost immediately.
Additionally, Square offers two additional plans – the Plus plan and the Premium plan – which provide more features to help grow your business. All three options are relatively low cost, making Square a great option if you need it.
How can I make money selling my art online?
The best way to make money selling your art online is by utilizing multiple platforms. It will help you reach a broader audience and increase your sales potential.
Moreover, it's also essential to focus on marketing strategies such as SEO optimization and social media promotions in order to gain visibility for your artwork and spread the word about your brand.
Finally, it's crucial to set competitive prices for your artwork that are both profitable and attractive to potential customers.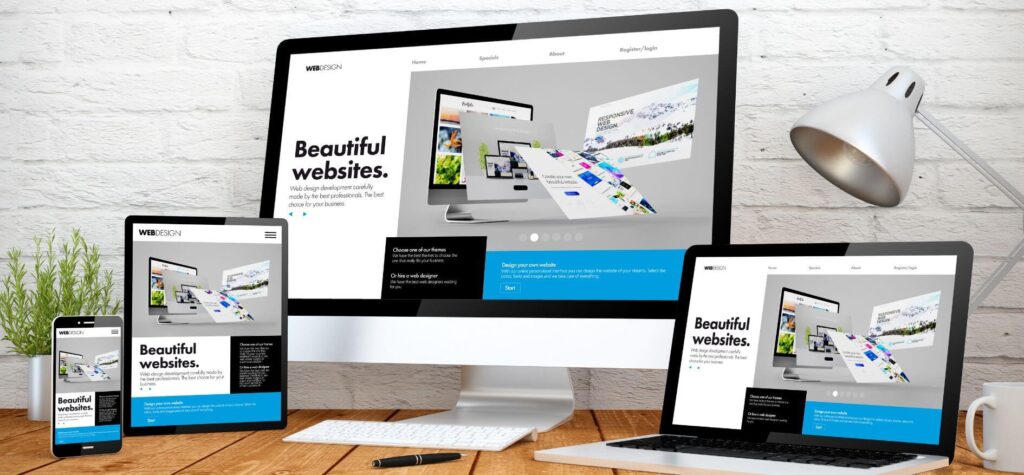 Is selling art online profitable?
Yes, selling art online can be very profitable. With the right strategies and platforms, you can successfully reach potential customers and generate a steady income from your artwork.
However, it's important to remember that it requires time and dedication to build up a successful art business yourself, so keep working hard and stay consistent!
What should I consider when selling art online?
When selling art online, there are several key factors to consider. Firstly, you need to ensure that your artwork is represented well on the chosen platform, including high-quality images and descriptions that accurately represent the work.
Secondly, it's important to research and choose an appropriate pricing strategy to sell artwork so you can maximize your profits. Thirdly, you should promote your artwork on social media and other platforms to spread the word and gain visibility.
What are the best tips for selling art online?
The best tips for selling art online include researching pricing strategies to maximize profits, using high-quality images and descriptions to accurately represent the artwork, focusing on SEO optimization and social media promotion for visibility, utilizing multiple platforms to reach a wider audience, and staying consistent in order to build up a successful business.
Additionally, it's important to remember that selling art online requires time and dedication – so make sure you are prepared before jumping into this venture!
Wrapping Up: Best Places To Sell Art Online
Finding the best website to sell your artwork is essential when you want to make money from home. By assessing the many existing options and considering each site's features, you can find a platform that best suits your needs.
Fortunately, there are countless online marketplaces available at your disposal. From sites where users can put up a simple storefront to those that offer built-in payment processing systems and support for artists of all levels, there's truly something for everyone.
Above, we've highlighted what we deem to be 13 of the best websites available for selling art online today—we hope it helps jumpstart your artistic vision into glorious reality.
You have a fantastic talent worth marketing and making money with—may these sites help launch your art career into full swing.