Best WooCommerce Plugins For Your Store To Boost Sales in 2023 – Online Store With WordPress
WooCommerce is a booming platform to build an online store right away. However, you may find a lot of plugins to enhance functionality and grow your business. If you are going to install some random plugin without understanding the plugin compatibility & features, you may end up spending more time optimizing your eCommerce store.
To assist you, we have curated top WooCommerce plugins that most eCommerce store owner prefers to build their online business and increase sales effectively.
Let's dive in.
What Are The Best WooCommerce Plugins For WordPress?
1. FunnelKit
FunnelKit is the best sales funnel builder that allows store owners to create opt-in/sales pages, checkout pages, customize checkout fields, and more. You can create a high-converting landing page directly with the available pre-built templates or create a custom sales page from scratch. Don't worry about the page optimization; this tool builds a sales page that looks good on any device.
The checkout page template has different elements like product guarantees, seals, and more. You can create custom checkout fields in your online store. Not only that, this plugin lets you create marketing campaigns and track customer behavior and sales campaigns with the analytics performance dashboard. It helps you increase sales effortlessly.
Highlights:
Multiple pre-built templates are available to create landing pages
Optimize checkout pages that suit any device in WooCommerce
Track the performance of the complete sales funnel
Create a one-click order bump discount campaign
Pricing: Begins at $99.50/year.
2. Product Recommendations for WooCommerce
Product recommendations for WooCommerce is an intelligent tool that helps you create custom product recommendations in your online store. It can be used to up-sell products, cross-sell products, recommend new products, top-rated products, best-seller products, frequently bought together products, and more. Plus, it supports products like simple, variable, grouped, affiliate, and more.
You don't have to create everything from scratch. This plugin comes with many built-in recommendation templates. You can create any campaign right away. All you need to do is choose the strategic placement to show products at the right moment for your customers. You can also use special conditions to sort your product and features on a slider or grid.
Highlights:
Multiple product recommendation templates are available
Create numerous campaigns to suggest products on the site
Run different recommendation campaigns at the same time
Build custom product recommendations in WooCommerce
Pricing: Begins at $89/year.
3. Popup Builder by OptinMonster
Popup Builder by OptinMonster is an excellent tool for creating appealing popup campaigns, gamified spin-a-wheel opt-in forms, email subscription forms, and more. The smart targeting option allows you to display the right message to the right users at the right time. This plugin builds responsive popup campaigns in the WooCommerce store.
This popup builder is optimized for both server and web performance. The plugin comes with hundreds of popup templates to create any campaign instantly. With a simple drag-and-drop builder, you can customize the template easily or add dynamic elements such as a countdown timer and more. This tool also helps you conduct the A/B testing for created popups.
Highlights:
Create responsive popups that suit any devices
Build mobile-specific popups display only on mobile or tablet
Multiple pre-built popup templates are available
Conduct A/B testing and track campaign performance
Pricing: Begins at $108/year.
4. Sales Countdown Timer
The sales Countdown Timer plugin displays the countdown on any page in WooCommerce using the shortcodes. It creates a sense of urgency for customers and encourages them to purchase more products from your store. With the help of this tool, you can create the best sales campaign and target your audience easily.
You can show a countdown timer on a specific product page. This countdown clock also notifies how many product quantities are left for the chosen period. You can create sales countdown timer campaigns for single, variation, and bulk products. Using shortcodes, this plugin allows you to customize the sales message for the countdown timer.
Highlights:
Use the shortcode to display the countdown anywhere on the website
Customize sales messages/design for the countdown timer campaign
Determine the position for a single product page in WooCommerce
Supports products like simple, variable, and bulk
Pricing: Begins at $25.63/year.
5. WooCommerce Best Sellers
WooCommerce Best Sellers is the most effective plugin for promoting your products by showing the top products on your eCommerce site. You can display the slider on the category, shop, and product pages. The plugin allows you to design a slider to show the products with your custom badges. This plugin lets you decide on strategic placement and increase your sales.
The plugin comes with its best-seller page, where you can see all the sliders you've created in one place. The plugin allows you to customize the look of your product slider. When you select products for your slider, you can show products based on the number of sales you've made. You can also set a limit on how many products you want to show on these sliders.
Highlights:
Highlights best-selling products based on categories/tags
Supports variable, affiliate, grouped, and simple products.
Add a best-seller label to the slider in WooCommerce
Rank products based on the number of sales done
Pricing: Begins at $49/year.
6. Customer Reviews for WooCommerce
Customer Reviews for WooCommerce plugin provides the most effective way to contact customers and encourage them to post reviews on your site. This plugin enables you to set the email to be sent after shoppers have completed their purchase. The plugin includes an integrated review form that facilitates multiple product reviews simultaneously.
You can validate the reviews submitted and publish them to your WooCommerce website. Visitors can upvote/downvote the submitted reviews to either approve or reject them. The plugin generates auto-generated reminders based on various roles, including Customer, Subscriber, Shop Manager, and more.
Highlights:
Generate reminder emails for reviews automatically
Reward your customers for submitting a review
Enable the question and answer section on the review page
Allows shoppers to upload images, vote for ratings, and more
Pricing: Begins at $49.99 + VAT per year.
7. Sumo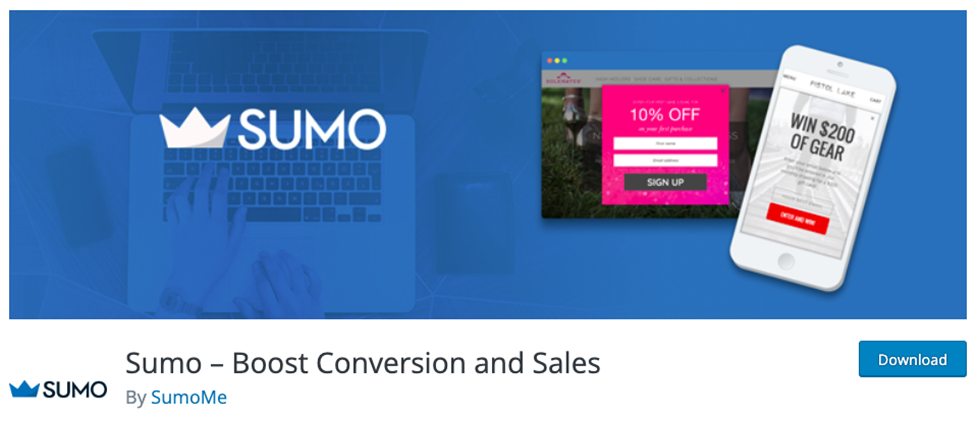 Sumo is an email marketing plugin that allows you to grow your email list via lovely popup forms. It allows you to create email drips that you can use to communicate with your subscribers and convert them into leads. With Sumo, you can set up an email campaign in a few simple steps: set a goal, choose a form type, and customize the layout. It would be best if you were signed up to use the plugin.
The smart mode gives you control over how the popup form shows up. It automatically sets the time and location of the popups on your WooCommerce site. Plus, you can manually manage the form by setting up a time for the popup to appear and creating the best popup for the exit intent on your website.
Highlights:
With custom rules, show forms on specific posts/pages
Add share buttons to share content on social media
Redirect the users to the targeted webpage
Create a discount campaign to show on the popups forms
Pricing: Begins at $39/month.
8. WooCommerce Coupon Generator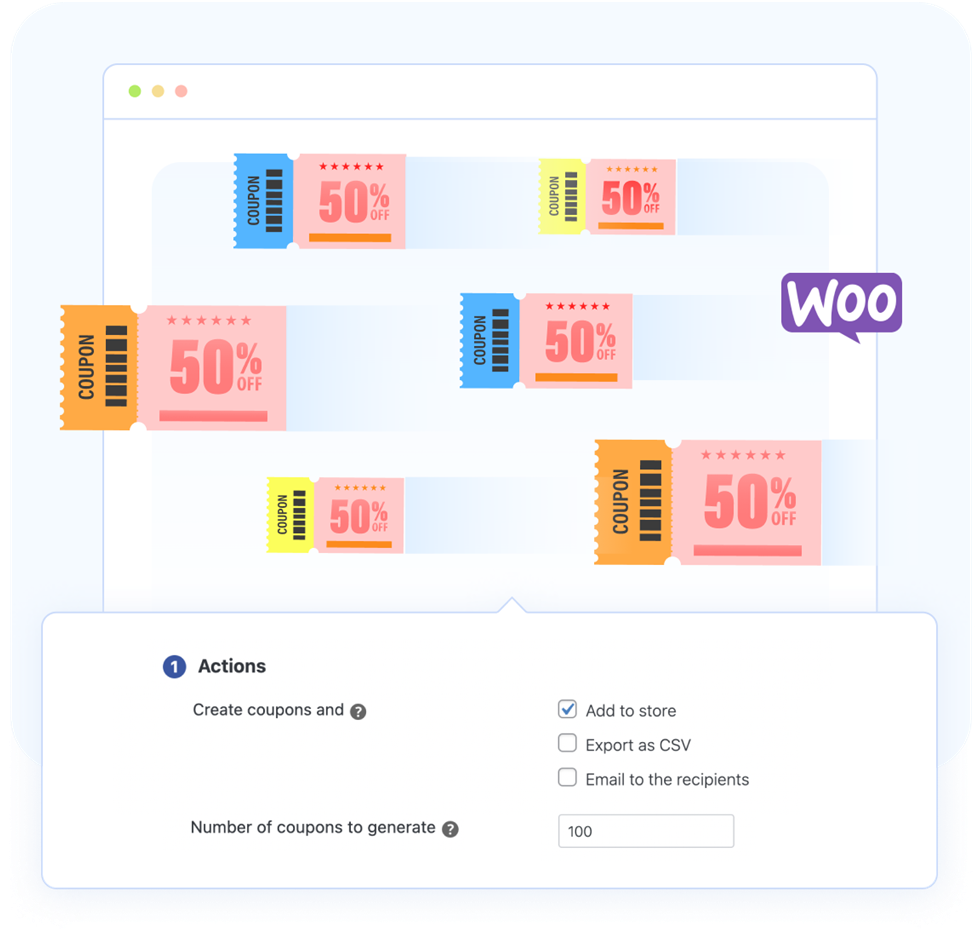 Coupon Generator for WooCommerce is an advanced bulk coupon generator that creates hundreds of unique coupons at a time. You can create coupons based on purchase history, a single product, shipping method, user role, payment method, and much more. You can apply coupon restrictions for a specific user role or user email address, or anyone can access it.
This plugin allows you to back up the created coupons by exporting coupon campaigns as CSV files. This coupon generator tool is also great for sending the same coupon for all recipients or a unique coupon for each one. This will provide a personalized experience for visitors and increase conversion in your online store.
Highlights:
Create different conditional coupons in WooCommerce
Generate bulk coupons right away
Customize coupon codes the way you want
Restrict coupon usage based on the condition
Pricing: Begins at $29/year.
9. Zoho Sales IQ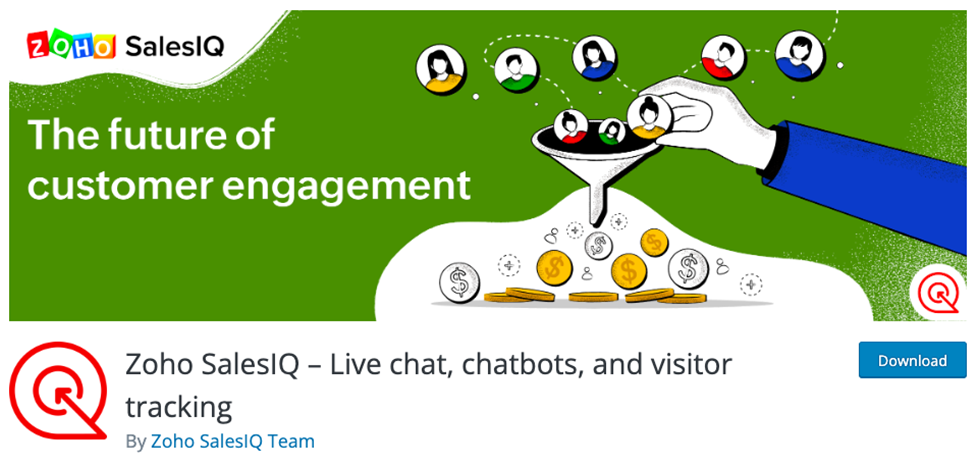 Zoho SalesIQ is a live chat tool that makes it easy for store owners to interact with visitors and keep track of them. You can set visitor priority criteria that help you find people interested in your product. You can display automated messages on the high-intent pages of your WooCommerce website.
The plugin has a built-in chatbot builder that lets you build a chatbot instantly. It also has a built-in programming interface that lets you customize and automate the chatbot as needed. The plugin shows a typing preview from the client's perspective.
Highlights:
Allows a file to be shared or attached on the live chat
Built-in screen sharing and audio calls are available
Redirect chat to the right department based on user query
Automatically detect the incoming chat language and reply accordingly
Pricing: Begins at $48/year.
10. Product Feed PRO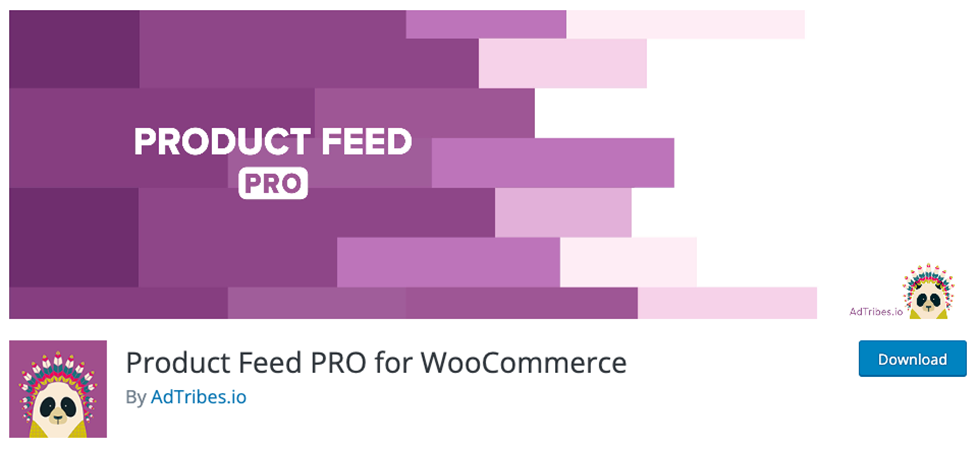 Product Feed PRO makes it easy to set up product feeds for all your marketing channels, like Facebook shopping, Google shopping, and more. Plus, you can use over 100 pre-made templates to make product feeds for search engines like Google, comparison shopping sites like eBay, and even remarketing.
With this tool, you can create your custom product feeds. You can use as many products as you want for your eCommerce store. Plus, you can filter products based on specific conditions. It will help you show great feeds or ads for the products you want your customers to buy. You can also create campaigns based on high-selling products and increase your profits.
Highlights:
Create boundless numbers of product feeds
Exclude specific products from feeds
Add custom fields for product feeds in WooCommerce
Set up Google Analytics UTM tracking codes for feeds
Pricing: Begins at $96/year (ex VAT).
11. Display Discounts for WooCommerce
The WooCommerce Display Discounts is the best plugin to capture the attention of customers without any hassle. This plugin assists in the creation of the countdown banner for the store. It creates a fear of missing opportunities for customers to complete their purchases in a timely manner. Select a suitable template for displaying coupon banners on the product page.
You can specify which coupons you want to display. The plugin lets you set the maximum number of coupons you want to show per store. With this display discount tool, you can show coupons only to logged-in customers. You can enable single-click copy for access to coupons to apply to products.
Highlights:
Determine coupon placement on product pages
Customize the coupon banner appearance
Redirect users to a specific page after clicking on the coupon
Set a countdown timer for coupons to stimulate urgency for customers
Price: Begins at $49/year.
12. CartFlows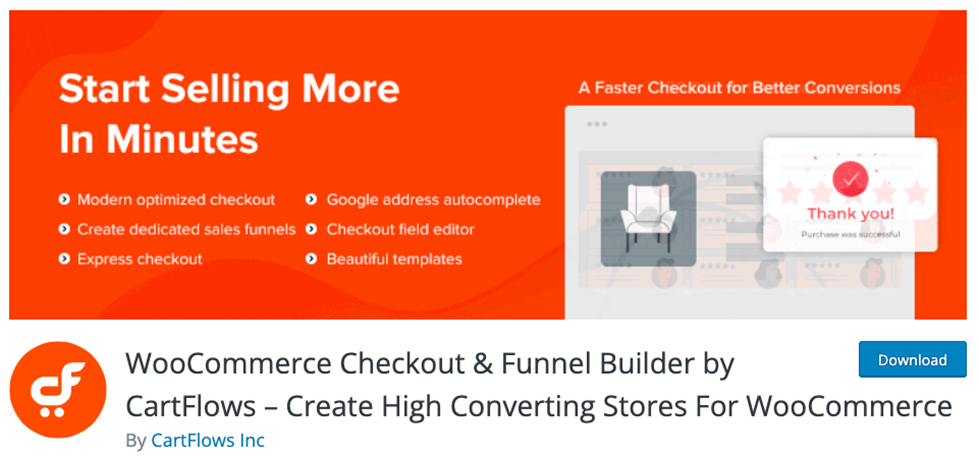 The CartFlows plugin makes the WooCommerce checkout process as easy as possible. With CartFlows, you can create a modern WooCommerce checkout experience that surpasses the standard WooCommerce checkout experience. It helps your customers to complete their purchases without any interruptions. Optimize your checkout funnel with CartFlows.
The plugin allows you to create a multi-stage funnel with one click or create a custom funnel according to your store's needs. You can manage the funnel in real time and gain insights to enhance the funnel to increase your revenue. You can also set a funnel retention strategy with this plugin.
Highlights:
Reorder, remove, or edit specific fields on the checkout page
Pre-built checkout templates are available
Manage the coupon box to display or not
Activate autocomplete Google address option
Pricing: Begins at $79/year.
13. Hustle
Hustle is the best plugin for creating email marketing campaigns and driving more traffic to the WooCommerce store. This plugin helps you grow email listings with popups, slide-ins, widgets, opt-ins, and shortcodes. With this tool, you can display targeted ads on your WooCommerce website. The smart triggers allow you to show popups or any ads based on scroll, time on the page, and more.
The plugin enables you to schedule the campaign to run in specific periods, like days, weeks, or months. Outreaching your visitors/leads now becomes easy with this plugin; it generates automated emails based on their actions. This plugin is compatible with popular third-party tools like Hubspot, MailChimp, ConvertKit, MailPoet, Zapier, and more.
Highlights:
Creates popups, slide-ins, opt-ins, or more instantly
Customize popups campaigns with a built-in design editor
Generate automated emails based on visitor actions
Schedule the campaign to run at a specific period
Pricing: Begins at $87/year (7 days free trial is available).
Wrapping Up: Best WooCommerce Plugins To Boost Sales
In a nutshell, building an online store might be accessible with any plugin. But to increase the sales of your WooCommerce store, you need to create the best marketing strategy and campaign to stand out among your competitors.
The listed plugins will help you create marketing campaigns, showcase best-selling products, display coupons strategically on the product page, optimize the checkout experience, generate product feeds, set up an advanced chatbot, and more.
You can choose the suitable plugin based on the store requirement and boost sales robustly.