Best Amazon Product Research Tools For 2023 – Best Product Research Tools For Amazon
In today's highly competitive e-commerce landscape, conducting effective product research is essential for Amazon sellers looking to thrive and succeed. With millions of products on Amazon, identifying profitable opportunities and making informed business decisions can be daunting. However, there's good news.
The advent of powerful product research tools has revolutionized how sellers navigate the Amazon marketplace. This article will explore the best product research tools for Amazon in 2023.
These tools provide valuable insights, data, and functionalities to help sellers uncover winning product ideas, analyze market trends, and maximize their chances of success.
Whether you're a seasoned seller or just starting, leveraging these tools can give you a competitive edge in the dynamic world of Amazon. So, let's dive in and discover the top product research tools that will take your Amazon business to new heights.
Brief Summary:
Explore the top Amazon product research tools for 2023
Gain invaluable insights and automate your research process
Find profitable niches and optimize your product selection
Stay ahead of the competition with data-driven decision-making
Practical Tips and StrategiesStrategies to maximize your Amazon selling success
What Are the Best Product Research Tools for Amazon?
11 Best Amazon Product Research Tools In 2023
1. Helium10
Helium 10 has garnered widespread praise among its users, offering a diverse set of powerful and useful tools tailored specifically for Amazon sellers. These features are organized and classified by code names, enabling efficient data management across various areas such as inventory stock, sales, and keyword searches.
In addition, by subscribing to Helium 10, sellers gain access to an impressive array of research tools designed to enhance their success on the Amazon platform. Here are some of the unique tools provided by Helium 10:
Black Box: A product finder and research tool that grants access to data on over 450 million Amazon products. Users can utilize powerful filters such as sales volume, product weight, reviews and ratings, sales projections, trends, and images to obtain valuable insights for their product research.
Trendster: This tool enables users to analyze products swiftly, providing data on seasonal demand, sales volume, market trends, and historical price fluctuations. It equips sellers with the information needed to make informed decisions regarding their product offerings.
Scribbles: As a product listing optimizer, Scribbles continually works to generate ranking keywords for improved visibility and increased traffic to product pages. It aids sellers in optimizing their product listings to maximize their reach and sales potential.
Cerebro: This keyword research tool allows users to compare multiple ASINs (Amazon Standard Identification Numbers) simultaneously. By offering valuable insights into keyword search volumes and other pertinent information related to specific groups of products, Cerebro assists sellers in identifying profitable niches and seizing opportunities within their chosen category.
Xray: Helium 10's Google Chrome browser extension provides quick access to product research tools. It allows users to evaluate a product's potential and assess its viability in a timely manner.
Refund Genie: Helium 10 stands out by offering a unique feature that helps sellers keep track of reimbursements for lost or damaged items. With Refund Genie, sellers receive descriptive reports to submit reimbursement requests to Amazon easily.
Pros of Helium 10:
Cons Of Helium 10:
The platform may not be as beginner-friendly as some of its competitors.
The free plan has limited access to certain features and functionalities.
Pricing:
Free Plan
Platinum Plan: $97 per month
Diamond Plan: $197 per month
Enterprise Plan: Custom pricing
2. AMZScout
When selling a product on Amazon, the challenge arises when multiple big brands and manufacturers already offer the same item. In such cases, generating interest and standing out from the competition becomes an uphill task. This is where AMZScout can prove to be a valuable ally.
Renowned companies like Dell, Disney, and Casio have chosen AMZScout for their exceptional capabilities. AMZScout specializes in helping merchants identify significant trends that can make a difference in their business.
By spotting a niche gaining substantial traction, sellers can use the platform's tools to determine its viability. Moreover, AMZScout provides insights into the other sellers exploring the same niche, allowing users to stay ahead of the competition.
One of the standout features of AMZScout is its access to Google trend data analytics, which provides valuable information on product demand and popularity.
Additionally, the platform offers insights into FBA expenses and costs, product sales estimations, and the quality of listed products. These features equip sellers with the information to make informed decisions and optimize their sales potential.
Pros Of AMZScout:
Cons Of AMZScout:
Not as powerful or accurate as some of its competitors, such as Helium 10.
Lacks essential metrics provided by Helium 10, limiting the depth of analysis and research.
Does not provide supplier services, which may be a drawback for sellers needing such support.
Pricing:
PRO Extension: $44.99 per month
Amazon Seller's Bundle: $49.87 per month
3. Jungle Scout
Jungle Scout is widely recognized as the premier Amazon product research tool available today. Its reputation is bolstered by its features and numerous accolades from prestigious publications like Forbes, Inc., and Entrepreneur.
Trusted by renowned brands such as FedEx, Intel, and HP, Jungle Scout has garnered thousands of positive reviews on Trustpilot, solidifying its position as the preferred choice for sellers seeking success on Amazon.
The platform offers extensive tools, resources, blog posts, training programs, and webinars to empower users and maximize their sales potential on Amazon.
A standout feature is its colossal product database, which pulls data directly from Amazon's vast marketplace of 475 billion products. This database provides invaluable insights and analytics to help sellers make informed decisions.
Jungle Scout caters to sellers of all levels, offering an all-in-one solution with three distinct options: one for new sellers, one for existing sellers, and another for large brands and agencies.
For aspiring and new sellers, the Opportunity Finder Tool is a game-changer. It enables users to discover profitable product niches by identifying high-demand, low-competition keywords.
In addition, the Product Tracker provides valuable insights into seasonal and year-round sales for each product, equipped with comprehensive filters such as historical sales, best seller rank, reviews, ratings, and opportunity scores.
The Jungle Scout Academy also offers a wealth of high-quality training resources, allowing users to elevate their selling prowess and become pro sellers on Amazon.
Existing sellers benefit from Jungle Scout's browser extension, which streamlines the gathering of essential data about any product while browsing Amazon. With just one click, the extension enables users to analyze competitors, validate product ideas, and even request reviews from individual customers.
Moreover, Jungle Scout offers features designed to expedite obtaining customer reviews, allowing sellers to enhance their brand reputation more swiftly. Check them out here.
For Amazon FBA (Fulfillment by Amazon) store owners, Jungle Scout's Inventory Manager feature automates a significant portion of the workload.
This tool uses artificial intelligence to predict market trends for your products, recommends stocking levels and reorder dates and quantities, and crucially reduces storage fees. Jungle Scout also provides analytic tools to assist in managing the financial health of your Amazon business.
Jungle Scout's capabilities are not limited to individual sellers. It offers even more powerful tools and features tailored to the needs of brands and agencies, earning the trust of some of the world's largest organizations.
Pros Of Jungle Scout:
Cons Of Jungle Scout:
Not as powerful or accurate as some competitors.
May require additional software for complete Amazon FBA operations.
Price-quality ratio may not be ideal for some users.
Pricing Plans:
Basic Plan: $49 per month
Suite Plan: $69 per month
Professional Plan: $129 per month
4. ZonGuru
ZonGuru is a feature-rich Amazon selling tool designed for solopreneurs. With a beautiful interface and cool tool names like Love-Hate and Keywords on Fire!, it stands out in the market.
ZonGuru is an all-in-one solution with 17 tools to support various aspects of an Amazon business. Its competitor research and listing optimization tools are particularly noteworthy.
The platform aids in finding and validating new products, connecting with manufacturers, optimizing listings, and monitoring business performance. In addition, it caters to solopreneurs who enjoy hands-on research, tinkering and automation.
While ZonGuru has strengths like its user-friendly interface and practical automation tools, it also has limitations. For example, its product database is smaller compared to competitors, potentially limiting research options.
The data accuracy has been questioned, which may impact decision-making. The Niche Rater tool may not provide as complete results as other solutions. Text-to-speech (TTS) technology has been widely employed to enhance English language learning by providing students with enriched language experiences.
While some studies have acknowledged limitations in using TTS, the majority of research has demonstrated positive effects on student performance, particularly for English as a Foreign Language (EFL) students.
However, comparative studies evaluating the quality of TTS-generated audio materials against those produced by native speakers remain scarce. Moreover, existing studies have primarily focused on performance outcomes rather than analyzing the distinct features of each audio type.
Drawing inspiration from research that models speech recognition as students, this study explores the quality of TTS and native speaker audio using multiple speech recognition (SR) models.
The experiment results indicate that TTS-generated materials are more understandable to students than those produced by native speakers. Furthermore, the analysis of connected speech characteristics reveals that TTS audio materials exhibit similar traits to native speaker audio.
These findings endorse prior research recommendations to leverage TTS when native speakers are scarce, as it enhances language input for students.
Here are the pros and cons of using ZonGuru:
Pros Of ZonGuru:
Cons Of ZonGuru:
Smaller product database limiting research options.
Questionable data accuracy, potentially affecting reliability.
Niche Rater tool falls short compared to alternatives like H10 or JS.
Pricing:
Researcher: $39 per month.
Seller: $49 per month.
5. SellerApp
SellerApp is an all-in-one tool beyond basic product search, offering a comprehensive solution for Amazon sellers. Its range of features simplifies various aspects of selling on Amazon.
The platform excels in marketing, providing market research tools that leverage advanced product intelligence to identify high-potential products with low competition. By collecting over 300 million data points daily, SellerApp offers in-depth analytics, including sales and revenue estimates, reviews, ratings, and more.
Data plays a crucial role in SellerApp, empowering sellers to make informed decisions about their product selection. The platform also enables users to analyze competitors' strategies and enhance their approach through insights into keywords and trends. Additionally, users can set up alerts to stay updated on price changes for monitored products.
Sales tools are another highlight of SellerApp, offering PPC tools for effective advertising, a keyword tracker to monitor listing rankings, and an Amazon Listing Optimization Tool for improved product listings and increased sales.
The user-friendly dashboard provides an overview of key metrics and actionable insights for business improvement. SellerApp boasts a high customer satisfaction rate, with proven revenue increases reported by users.
SellerApp stands out for its quick insights, user-friendly features, and convenient shortcuts that enable users to become proficient in product research. The platform offers a range of tools, such as the Product Tracker for competitor analysis,
Competitor Strategy Analysis for long-term planning and real-time tracking of product metrics through an intuitive dashboard. Reliable sales data and accurate reports further assist users in optimizing their strategies.
Pros Of SellerApp:
Cons of SellerApp:
A slight learning curve due to the platform's diverse options and tools.
Pricing:
Amazon Sellers (Self-service):
Pro Lite Plan: $99 per month
Professional Plan: $199 per month
Enterprise Plan: custom pricing
Managed Service (Professionally-managed seller accounts):
Keyword Optimization + Listing Creation: $350 per parent ASIN
Professionally managed services – Amazon PPC: starting at $699 per month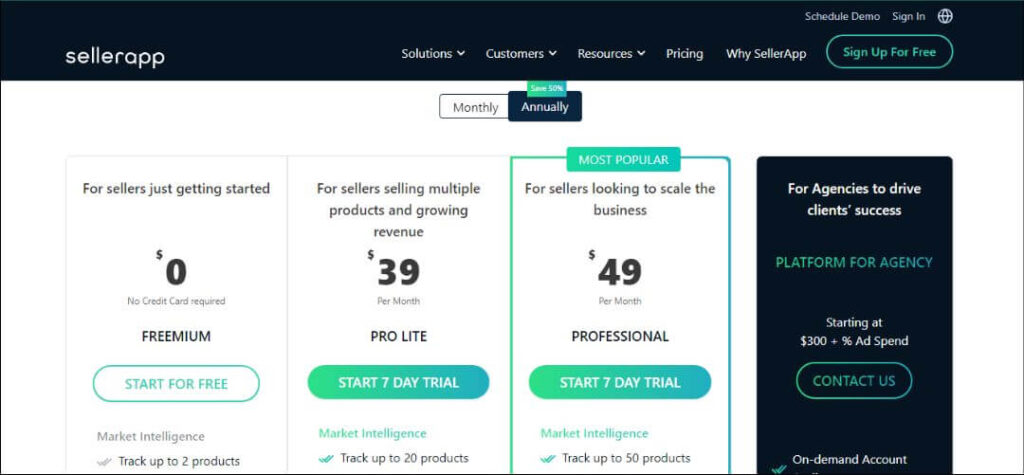 Learn More:
6. Viral Launch
Viral Launch is a valuable tool that can significantly lighten the workload of full-time Amazon sellers. It offers many features that simplify product research and provide valuable insights. Let's examine how Viral Launch can assist you in your Amazon selling journey.
One of the critical features of Viral Launch is its product discovery capability. With access to a vast database of over 200 million products, keywords, categories, and brands, you can quickly filter and narrow your search for the next best-selling item. As a result, it saves you time and removes the guesswork from finding profitable products.
Keyword research is another area where Viral Launch excels. By exploring high-performing keywords, complete with metrics such as search volume, priority score, and suggested CPC, you can estimate advertising costs and assess the profitability of potential products.
This valuable information enables you to make informed decisions about your product selection and marketing strategies. Viral Launch also provides comprehensive market intelligence.
With data on market price trends, sales estimates, reviews, ratings, and an overall product idea score, you can validate your product choices and better understand the market landscape. This empowers you to make smarter decisions and stay ahead of the competition.
Competitor intelligence is another valuable feature offered by Viral Launch. By analyzing your competitors' strengths, weaknesses, sales tactics, ad strategies, and keyword usage, you can identify opportunities to differentiate yourself and gain a competitive edge in the market.
Additionally, Viral Launch offers a tool called Kinetic, which automates your Amazon PPC campaigns, saves you time, and provides detailed data on the performance of your marketing campaigns. It helps you optimize your advertising efforts and maximize your return on investment.
Pros of Viral Launch:
Cons of Viral Launch:
No entry-level or beginner plan
Product research tools may not be as effective as Helium 10
Not as user-friendly as Jungle Scout
The best features of Viral Launch are not directly related to product research.
Pricing:
MI Extension Plan: $25 per month
Beginner Plan: $59 per month
Pro Plan: $99 per month
Brand Builder: $149 per month
Kinetic: $199 per month
7. ZonBase
ZonBase is a premier all-in-one platform tailored specifically for Amazon sellers. It offers a comprehensive suite of seller tools, ensuring seamless execution of business processes.
With over 14 tools, ZonBase covers all aspects of an Amazon business, including product research, keyword analysis, listing optimization, sales estimation, competitor analysis, and profit tracking.
Additionally, ZonBase provides personalized services for sellers who prefer to outsource their business needs to a team of experts.
Key Features:
ZonResearch: Delve deep into product research by leveraging search filters and presets to identify Amazon's most lucrative product choices.
Zon Chrome Extension: Validate your product ideas and gain accurate sales estimates while uncovering detailed sales history and keyword rankings.
Hot Products: Access a comprehensive list of the top 100 most gifted products, with solid sales and minimal reviews.
Sales Estimator: Generate monthly sales data and revenue estimates based on historical sales trends.
Keywords: Generate a list of relevant keywords to enhance your product's visibility in search results.
ZonTracker: Track keyword performance, including monthly search volume, current rank, and sales trends.
Reverse ASIN: Conduct competitor intelligence by running reverse searches on competitor keywords and gaining valuable insights.
Listify, Listify AI: Create optimized product listings from scratch, drawing inspiration from competitors' listings. Listify AI takes it further by utilizing AI automation for optimized listings.
Profits: Utilize ZonBase's analytics and inventory forecast tool to track business expenses and evaluate the effectiveness of marketing campaigns.
ZonPPC: Leverage AI-driven technology to launch and manage PPC campaigns effectively.
Extras:
Product Validator: Get personalized product research services where experts review and validate your product ideas.
Product Idea: Collaborate with experts to select profitable products for your business.
Page One and PPC Autopilot: Access professional assistance for creating and launching high-converting PPC campaigns.
Pricing:
Standard: $37/month
Legendary: $67/month
Diamond: $132/month
For those looking to explore ZonBase's capabilities before committing, a 7-day free trial is available.
8. Unicorn Smasher
Processing vast amounts of data can challenge high-volume Amazon sellers during the product research phase. However, tools like Unicorn Smasher can simplify the process and prevent important information from getting lost in the shuffle.
Unicorn Smasher provides a user-friendly dashboard that presents all the relevant data about your products in an easily readable format. You can quickly navigate to specific products to delve deeper into their performance and capabilities.
The tool also offers opportunity scoring, identifying products with a high potential for success on Amazon. Additionally, you'll receive real-time data updates on prices, rankings, ratings, reviews, and more.
One advantage of Unicorn Smasher is its integration with AMZ Tracker, which allows you to gather information about the listings of other products. This can provide valuable insights and competitive intelligence.
Unicorn Smasher is a reliable tool for Amazon product research, offering detailed data and sales projections. Its comprehensive features and intuitive dashboard make it easy to manage and analyze your research in one place.
However, it's important to note that Unicorn Smasher may not be the most suitable option if you require extensive Amazon ranking tools, as it lacks specific capabilities compared to other solutions.
Pros of Unicorn Smasher:
Cons of Unicorn Smasher:
May not offer as many Amazon ranking tools as some other solutions.
Its capabilities are limited compared to those alternatives.
Pricing:
Basic: $49.99 per month
Suite: $150 per month
Professional: $99 per month
9. AmazeOwl
AmazeOwl, an often overlooked Amazon product research software, serves as a valuable tool for sellers seeking to discover and launch products. You can confidently introduce a winning product on Amazon by harnessing its precise data.
This tool proves particularly beneficial for beginners, as it streamlines the process of creating a business that aligns with their schedule. Additionally, by saving significant time on research and development of product ideas, AmazeOwl empowers over 4,000 Amazon sellers each month to find their first product and achieve successful sales on the platform.
With AmazeOwl, you gain access to the following features:
Effortless product idea search: Explore over 600 million items across 11 marketplaces, effortlessly locating the perfect product for your business.
Validate and launch your winning product: Acquire accurate data to comprehend your market, differentiate your product, and confidently launch it.
Stay ahead of competitors: Spy on your competitors' daily adjustments to their prices, titles, images, and keywords, enabling you to stay at the forefront of the market.
AmazeOwl is an indispensable asset for sellers aiming to maximize their success on Amazon. Its ease of use, precise data, and ability to help you stay ahead of the competition make it a worthy investment for your business.
Pros Of AmazeOwl:
Cons Of AmazeOwl:
Limited to Amazon and not applicable to other platforms.
Lacks compatibility with Twitter for social media marketing.
Some advanced features may require a paid subscription.
Pricing Plans:
Starter Plan: Free
Growth Plan: $19.99/month
Established Plan: $29.95/month
10. Keepa
Whether to purchase a product or not often boils down to its pricing for many consumers. This places the responsibility on online merchants to determine the right price point for their products.
To simplify this process, Keepa comes to the rescue. Keepa is a valuable tool that allows you to monitor pricing trends on Amazon, both in the short and long term.
By analyzing the historical pricing data available on Keepa, you can gain insights and adjust your product's pricing strategy accordingly. Additionally, Keepa enables you to track prices across various international locations on Amazon.
One of the key advantages of Keepa is its ability to promptly notify you of any price drops or deals that are happening. As a result, it keeps you informed and enables you to capitalize on favorable pricing opportunities.
Moreover, Keepa offers a product finder and viewer feature that allows you to optimize your search and research process. By utilizing category and financial filters, you can streamline your product exploration.
The tool also facilitates bulk uploading of categorized products, providing a side-by-side view of product information, historical prices, trend projections, and more.
Furthermore, Keepa provides valuable information on Top & Best Seller Lists, giving you insights into the hottest-selling items within each category. As a result, it allows you to identify niche markets and seize opportunities for upcoming trends more efficiently.
Pricing Plans:
Monthly plan: €15 per month
Annual plan: €149 per year
11. CamelCamelCamel
Camelcamelcamel, like Keepa, focuses on assisting users in identifying relevant pricing trends for their desired products. This tool provides users with charts that contain pricing data for millions of products available on Amazon. With Camelcamelcamel, users can view price history charts, search by category, install add-ons, and receive price alerts.
To enhance user convenience, Camelcamelcamel offers a browser extension that simplifies viewing pricing charts while browsing through product selections. This extension is compatible with Mozilla Firefox and Google Chrome, catering to many users.
One notable advantage of Camelcamelcamel is its free service, making it an attractive option for sellers. Additionally, the platform offers valuable blog posts filled with seller information and is backed by exceptional customer service, as evidenced by positive user reviews.
Camelcamelcamel serves as an Amazon price tracker, accessible via browser or download. This tool provides users with the requested information, including price changes and availability updates for their selected products.
Using Camelcamelcamel's charts and alerts, users can make well-informed purchasing decisions based on historical pricing trends. Price drop alerts are a crucial feature of the tool, ensuring that users are notified via email when their desired items reach their preferred price range.
Similarly, availability alerts make the shopping experience less labor-intensive by notifying users when their desired products are back in stock.
Pros Of CamelCamelCamel:
Cons Of CamelCamelCamel:
Exclusively works with Amazon
No Twitter compatibility
Pricing:
Related Blog Posts:
What is an Amazon product research tool?
An Amazon product research tool is a valuable resource that equips sellers with essential insights and data, enabling them to make well-informed decisions regarding product selection and strategy on the Amazon marketplace.
These tools empower sellers to explore and analyze multiple aspects of potential products, including market demand, competition, sales trends, and keyword performance.
By utilizing search filters and presets, sellers can uncover good product choices aligned with their business goals. In addition, these tools often provide features such as sales estimation, historical data analysis, competitor intelligence, and keyword research, giving sellers a competitive edge and identifying lucrative opportunities.
Using an Amazon product research tool streamlines the research process, saving time and facilitating data-driven decision-making to maximize success on Amazon. Moreover, it is a valuable ally for sellers navigating the vast marketplace, helping them identify the most promising products for effective Launch and sales.
What Are The Benefits Of Doing Amazon Product Research?
With the Amazon Marketplace boasting over 2.5 million sellers and 25,000 of them earning more than $1 million in annual sales, it's evident that the platform holds immense potential.
The sheer volume of products and sellers might seem overwhelming, but it also presents a unique advantage. These millions of sellers and products serve as data points for product research tools to explore and analyze.
By leveraging the right tool, you can gain instant access to valuable information about the top products in your niche.
Additionally, you can observe and learn from your competitors, studying their SEO strategies and assessing the success of their products. However, the benefits of using an Amazon product research tool extend beyond competitor analysis:
Time-Saving Automation: Some tools automate various aspects of the product listing process, freeing up your time for other essential tasks.
SEO Optimization: Certain tools help you identify the most effective keywords for search engine optimization, improving your product's visibility.
Sales Estimation: Tools equipped with sales estimation capabilities provide insights into the potential performance of different products, aiding your decision-making process.
Protection from Threats: Other tools safeguard your business by detecting and preventing issues like product hijacking and coupon abuse.
Engaging in Amazon product research empowers sellers to uncover profitable niches, select optimal products, understand competition, enhance marketing campaigns, mitigate risks, and adapt to changing market trends.
By harnessing the power of data-driven decisions, sellers can position themselves for success in the dynamic and highly competitive Amazon marketplace.
How To Choose The Right Amazon Product Research Tools?
When selecting the right Amazon product research tools, it's crucial to consider several factors to ensure you make an informed choice. Here are some key considerations to help you navigate the selection process:
Purpose Alignment: Determine your specific research needs and goals. Are you focused on market trends, competition analysis, keyword research, or other aspects? Look for tools that align with your objectives.
Features and Functionality: Assess the features offered by different tools. Consider aspects such as sales estimation, historical data analysis, competitor intelligence, keyword research, and automation capabilities. Look for tools that provide the functionalities you require.
User-Friendliness: Evaluate the user interface and ease of navigation of the tools. A user-friendly interface will streamline your research process and make it more efficient.
Data Accuracy and Reliability: Ensure the tools provide accurate and reliable data. Look for tools that source data from reputable sources and offer real-time or up-to-date information.
Pricing and Value: Consider the tools' pricing plans and subscription options. Assess the value they provide with their cost. Look for a tool offering a reasonable price point and valuable insights.
User Reviews and Reputation: Read user reviews and testimonials to gauge other sellers' experiences. Consider the reputation and credibility of the tools in the market.
By carefully evaluating these factors, you can choose the right Amazon product research tools that align with your needs and empower you to make data-driven decisions for your business. Remember, selecting the right tools is critical to achieving success on the Amazon platform.
Amazon FBA Product Research FAQs
What is Amazon product research?
Amazon product research is the process of gathering information and analyzing data to identify profitable products to sell on the Amazon marketplace.
It involves exploring market trends, analyzing competition, assessing sales potential, and understanding customer preferences. The goal is to make informed decisions about product selection and strategy to maximize sales and profitability.
What are the benefits of doing Amazon product research?
Engaging in Amazon product research offers several benefits for sellers. It helps identify profitable niches, optimize product selection, understand competition, enhance marketing campaigns, mitigate risks, and adapt to evolving customer preferences.
By conducting research, sellers can make data-driven decisions, increase their chances of success, and stay competitive in the dynamic Amazon marketplace.
How do you research a new product?
Researching a new product involves several steps. First, start by identifying potential product ideas based on market trends, customer demands, and personal interests. Then, analyze the competition to assess their strategies, pricing, and customer reviews.
Conduct keyword research to understand popular search terms related to your product. Next, evaluate sales potential by examining historical data, estimating demand, and analyzing profit margins. Finally, gather customer feedback and reviews to validate your product choice before launching it on Amazon.
How do I get product ideas from Amazon?
Amazon itself is an excellent source of product ideas. Start by exploring different product categories and bestseller lists on Amazon's website. Then, pay attention to customer reviews, ratings, and product descriptions to identify market gaps or potential improvement areas.
Additionally, utilize Amazon's "Customers who bought this also bought" and "Frequently bought together" sections to discover related products that can complement your offerings.
Which tool is used for Amazon keyword research?
There are several tools available for Amazon keyword research. Some popular options include Helium 10, Jungle Scout, MerchantWords, and Sonar.
These tools provide insights into search volumes, relevant keywords, and search trends on Amazon. By using these tools, sellers can optimize their product listings and increase their visibility in search results.
What product has the highest profit margin?
The product with the highest profit margin varies depending on various factors, including market demand, competition, production costs, and pricing strategies.
It is essential to conduct thorough research and analysis specific to your niche and target audience to identify products with the potential for high-profit margins. Factors such as unique features, limited competition, and strong market demand often contribute to higher profit margins.
The Bottom Line – Best Amazon Product Research Tools
The world of Amazon selling is thriving, with millions of sellers vying for success on the platform. Utilizing the best Amazon product research tools is essential to stay ahead of the competition and make informed decisions. These tools provide valuable insights, automate processes, and help sellers identify profitable opportunities in their niche.
You can unlock a world of benefits by incorporating the right product research tools into your Amazon selling journey. From uncovering profitable niches and optimizing product selection to understanding competition and enhancing marketing campaigns, these tools empower you to make data-driven decisions that maximize your chances of success.
As we step into 2023, it's crucial to stay ahead of the curve and utilize the latest and most effective tools available. This year's top Amazon product research tools include ZonBase, Helium 10, Jungle Scout, and AMZScout.
These tools offer a wide range of features, such as sales estimation, keyword research, competitor analysis, and more. In addition, each tool has unique strengths, allowing you to find the perfect fit for your needs.
Remember, success on Amazon requires continuous adaptation, innovation, and strategic decision-making. By incorporating these powerful research tools into your arsenal, you gain a competitive edge and increase your chances of achieving your goals.
Don't delay; take action now, and start leveraging the power of these Amazon product research tools. Stay ahead of the competition, uncover lucrative opportunities, and elevate your Amazon selling journey to new heights in 2023 and beyond. Happy selling!