Best AI Content Detection Tools – Top AI Content Detectors Options In 2023
AI-generated content is becoming more prevalent on the internet, thanks to the availability of AI content creation tools. These tools make it easy for content creators to produce text quickly, but they also raise concerns about authenticity.
The best AI content detectors can identify patterns created by the most commonly used AI writing model, GPT-3. But why use these detectors when using AI-written content? And is it something to be worried about?
It's important to know that using AI-generated content on a website is against Google's webmaster guidelines. While it used to be difficult to detect AI-generated content, a growing number of AI detection tools are now available.
And if these tools detect it, so can search engines like Google. That's why it's important to use AI content checker tools to ensure your website's content is authentic and won't risk your search engine rankings.
In this article, we'll explore the best AI content detector options to help you make an informed decision.
What Are The Best AI Content Detectors?
Here are some top-rated AI tools for content detection currently available.
1. Originality.AI – Best For Web Publishers.
Originality.AI is a content detection platform tailored to the needs of web publishers and content marketers.
It offers an AI detection tool and plagiarism checker in one unique platform and can identify AI-generated content from popular models such as GPT-3, GPT3.5, and ChatGPT.
They claim to be the only tool that can effectively detect AI-generated content.
Its full site scanning capability allows website buyers to check the percentage of human-generated content on a website. It can be invaluable when considering whether to purchase a website.
The tool includes Team Management, Full Site Scanning, Auto-Billing and more. It also has an advanced AI Writing Detection algorithm that identifies plagiarized work.
The platform has powerful tools for managing teams and projects, giving you the power to manage multiple sites at once. Users can add unlimited team members to their plan and scan unlimited websites for just pennies a word, making it easy to get started.
API Access: The platform (Originality.ai) allows integration with other tools and the creation of custom applications.
Plagiarism Checker: The platform also includes an integrated plagiarism checker at an affordable price of $0.01 per 100 words, which sets it apart from other AI content detectors. It also allows users to check for plagiarism and assess the plagiarism score of their blog posts or articles before publishing them.
Detect ChatGPT text: Can detect text generated by ChatGPT, a newcomer AI tool in the industry.
Pricing:
100 words cost $0.01; whether you're checking for AI detection or plagiarism, the price is the same.
Users must add their credit cards and upload credits to use the tool.
2. Content At Scale – Best Overall AI Content Detection.
Content at Scale is a comprehensive solution that provides both AI content detection and creation tools. With their free AI content detection tool, you can easily check your content for any signs of being generated by artificial intelligence.
The tool analyzes the content you paste in and provides a report on its authenticity. Their AI detection tool is the best free option available and can detect AI-generated content up to 2,500 characters, around 500 words.
In addition to detection, Content at Scale offers an AI writing tool that revolutionizes how businesses create content.
This tool can generate high-quality, thousand-word blog posts in minutes and is free of plagiarism and errors. The tool is built with SEO in mind and has advanced SEO-optimization capabilities that leverage natural language processing (NLP) and semantic-relevant keywords.
Additionally, it includes a table of contents and snippets that make it easy for readers to find the information they need quickly.
It also has an SEO checklist that ensures your AI-written content passes the on-page SEO checklist for an optimum structure.
Key Features
Some of the key features of Content at Scale include:
A free AI content detector to help you future-proof your website content
An AI content generator that can produce long-form, human-like content
Advanced SEO-optimization capabilities that leverage natural language processing (NLP) and semantic relevant keywords
An SEO checklist to ensure your AI-written content is optimized for maximum reach
Built for SEO content marketers, the finalized product benefits your search engine rankings
A proprietary set of AI engines that use natural language processing (NLP) to generate quality content in minutes
Tweet box and key takeaways at the end of each post so your readers can quickly comprehend the main points.
Content At Scale Pros:
Content At Scale Cons:
Pricing
The AI detection tool is free to use, and Content at Scale's pricing plans for content creation range from $0.01/word to $0.018/word.
Depending on your plan, it can cost anywhere from $500 to $1500 per month. Signing through a special link also grants you an extra 20% credit.
Overall, Content at Scale is a powerful and versatile tool that can help you detect and create high-quality, authentic content quickly and efficiently. With different pricing plans, you can find the one that best suits your needs and budget.
3. Winston AI
Winston AI announced the launch of its latest AI-generated text detection software, which is considered one of the world's most powerful of its kind.
This new software has been designed to assist web publishers and educational professionals in maintaining the integrity of their content in the face of emerging generative AI tools, such as ChatGPT.
Winston AI is an ideal solution for identifying AI-generated content, including platforms such as Jasper, Copy.ai, Writesonic, and many others. Educators can use this software to detect plagiarism in student work, making it easier for teachers and professors to ensure academic integrity.
One of the software's most noteworthy features is its ability to process various formats, such as Word or PDF documents, scanned documents, and even photos of handwritten text through its Optical Character Recognition technology.
Built using cutting-edge AI technology and trained on vast datasets, Winston AI is the perfect solution for both small and large-scale operations. It is user-friendly and an essential tool in a world where AI content is rapidly gaining ground with new, powerful language models.
Co-Founder of Winston AI, Thierry Lavergne, expressed his excitement regarding the product's release, stating, "We are confident that our product will help publishers and educators maintain the integrity by unveiling whether a human or a machine wrote a given text. With its advanced capabilities, Winston AI is set to change the way we detect and analyze text content. It is set to become an essential tool."
Winston AI is available now and comes with a 7-day free trial with no credit card required. For more information, please visit the official website, gowinston.ai, or send an email to support@gowinston.ai.
Pricing
Free – Scan up to 2,000 words per month.
Growth $14 per month and scan up to 80,000 words.
Custom – Best plan if you have a large team, includes a dedicated account manager.
4. Copyleaks AI – Best For Web Scanning.
Copyleaks AI is an advanced plagiarism detection tool that utilizes cutting-edge AI algorithms to scan and assess various content types such as documents, text, code, and URLs.
The platform searches across 60 trillion websites, 15,000+ academic journals, 20+ code data repositories, and 1M+ internal documents to detect similarities with the scanned content.
The tool is designed to detect even the most subtle instances of plagiarism and provides accurate assessments. Its comprehensive database and deep web scanning capabilities make it a reliable tool for protecting intellectual property.
Additionally, Copyleaks AI offers easy integration into existing systems through API integrations, making it compatible with any learning management system.
Key Features:
Copyleaks for Education: A tool that assists professors and teachers in identifying plagiarism in student papers or assignments quickly and accurately.
Copyleaks for Work: A solution that helps organizations safeguard their proprietary content from unauthorized use or duplication by competitors.
Copyleaks for Students & Individuals: A reliable double-checking tool for written work.
Advanced encryption algorithms are employed to secure all scanned content on the platform and comply with the highest industry standards for handling confidential data.
Pricing
With Copyleaks, you can try out the features with a free 10-page trial and see If you like the service.
Also, there is a 1,200-page plan that can be purchased for a discounted rate of $9.16/month when billed annually, which saves 16% compared to the monthly option.
Related: WordAI Review 2023 – Is It The Best Paraphrasing Tool?
5. Writer.com – Ideal For SEO Capabilities.
"Writer.com is the ultimate solution tool for anyone looking to streamline their content creation process.
With its easy-to-use templates, you can quickly and easily produce articles for your website or ads for social media, allowing you to focus on what matters most – creating great content.
But Writer.com doesn't just stop at providing templates; it also offers a variety of features designed to make sure your content stands out.
One such feature is the automated keyword module, which helps ensure that your texts include relevant keywords to rank higher in search engine results pages (SERPs).
Another great feature is the AI detector feature, which provides a human content score for every text you create.
The AI detection tool is limited to 350 words, but it's available to use for free, making it an excellent addition to your content creation arsenal."
Features
Collaboration: The CoWrite feature enables teams to work together on articles, blog posts, and other types of written content by utilizing multiple writers and editors.
Plagiarism detection: The ReWrite function provides automated plagiarism detection to ensure that all written content produced by the team is original.
Writing style corrections: ReWrite also includes writing style corrections to ensure consistency across all written content.
text highlighting: The tool includes a feature that allows text to be highlighted for clarification, particularly when it detects artificial intelligence.
Style guide documentation: Companies can document their custom writing style within the tool, ensuring that all team members follow the same guidelines and produce content consistent with the company's branding and style.
Terminology management: The tool allows teams to ensure consistency across all their content by storing and tracking key terms and phrases used throughout the company, making the content more effective in reaching the target audience.
Pricing
The Team plan is available for $18/month and allows up to five members to access the platform.
For larger teams or more advanced features, the platform offers an Enterprise plan with customized pricing options that cater to specific business requirements.
6. GLTR – Giant Language Model Test Room (Best For Scientific Testing)
GLTR, or the giant language model test room, is a tool created by the MIT-IBM Watson AI Lab and Harvard NLP that uses forensic analysis of text to determine if it is real or fake.
The tool utilizes an algorithm based on the likelihood of each word given its context. The system assigns different background colors to the text – green for the top 10 words, yellow for the top 100 words, red for the top 1000 words, and violet for the others.
It allows users to quickly detect artificial content and check if a text has been built from pre-existing sources or generated with AI techniques.
However, as GLTR was trained on GPT-2, it is more of a scientific and academic tool than a practical one for general use.
GLTR's source code can be accessed and downloaded from its website as it is open-source.
Key Features
Quickly detect fabricated content with real-time background color change
Verify the originality of your writing through the authentication feature
Analyze the text easily by viewing all the words through an interactive visualizer.
Identify genuine and fake documents using forensic analysis of text
Pricing
GLTR is available for free usage.
7. Kazan SEO
Kazan SEO is a user-friendly, all-in-one SEO tool available for free. It comes with a variety of features that can help you optimize your content for search engines.
One of its most notable features is the AI GPT3 detector, which allows you to check unlimited words for AI-generated content. It also has a content optimizer, text extractor, and keyword research tool based on clustering ideas.
Kazan SEO's ability to perform bulk analysis sets it apart from other AI content detection tools. You can input multiple URLs into a text box and hit the "Detect Urls for AI Content" button to analyze them at once.
Furthermore, Kazan SEO can also detect AI-generated content on the first 100 top Google results of a website by only inputting the homepage URL.
With Kazan SEO, you can save time and effort while getting valuable insights to improve your SEO strategy.
Key Features
AI Text Generation – Kazan SEO offers an easy-to-use AI text generator that generates content based on the last 600 characters inputted."
AI Content Detector (Analysis) – Evaluate any text, regardless of length, and receive a rating from Authentic to Artificial (written by a human or AI).
Bulk AI Content Analysis – Input multiple URLs and analyze them simultaneously.
Keyword Ideas Clustering – Input one keyword and receive multiple related keywords to achieve topic authority.
Pricing
Kazan SEO is available at no cost (free). You can utilize the AI content detection feature for unlimited words without any charges.
It should be noted that Kazan SEO is not recommended for text generation, as there are other free AI text generators offering better results. Consider using Content at Scale to generate large amounts of text that can evade AI content detection.
8- Hugging Face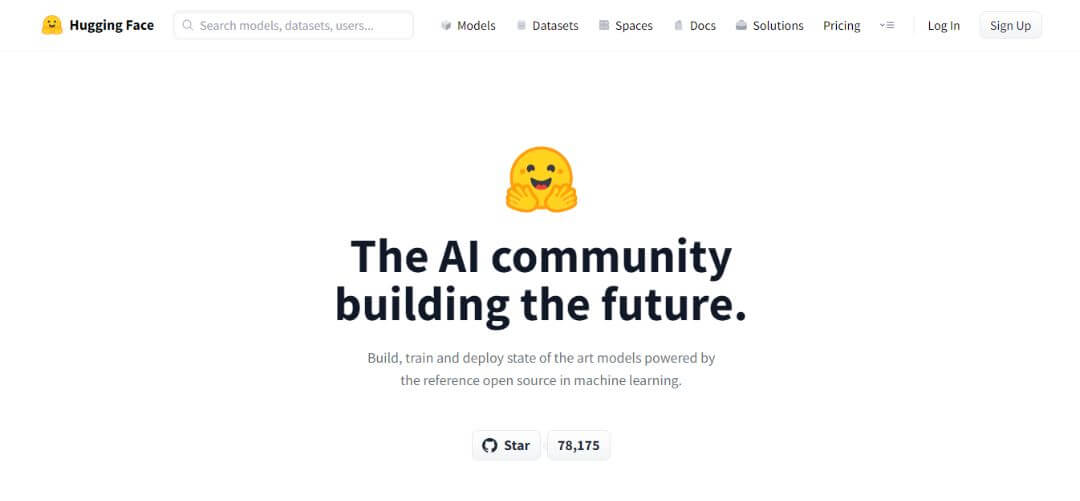 Hugging Face is an AI research and deployment company best known for its open-source platform of pre-trained models, called transformers, for natural language processing (NLP) tasks such as language translation, text generation, question answering, and more.
The company also offers a suite of developer tools, including the Hugging Face API and the Hugging Face Community Hub.
This allows developers to easily access and fine-tune pre-trained models for their projects, push the boundaries of AI writing, and collaborate and share models with other community members.
Hugging Face is one of the most popular and widely used NLP platforms among researchers and developers.
One of the tools they provide is an AI detection tool built by OpenAI and is only compatible with the GPT-2 model. They also specifically mention that it should not be used to detect ChatGPT.
The tool gives a rating from Authentic to Artificial (written by a human or AI) and is suitable for longer texts. You can use the detector on your website by obtaining the source code from GitHub.
What Is An AI Content Detector?
An AI content detector is a tool used to analyze text and determine if it was written by a human or an artificial intelligence (AI) model.
These tools typically work by analyzing the text's structure, grammar, and vocabulary and comparing it to known patterns and characteristics of human-written and AI-generated text.
Some AI content detectors use machine learning algorithms to learn from and improve their detection accuracy over time. They often provide a score or rating that indicates the likelihood that a human or AI writes the text.
These tools are widely used in various fields, such as plagiarism detection, digital forensics, and content authenticity verification.
Limitations Of AI Detection Tools
AI detection tools have several limitations that should be considered when using them. Some of these limitations include the following:
Model dependency: Most AI detection tools are designed to work with specific AI models, such as GPT-2 or GPT-3, and may not be effective at detecting content generated by other models.
Limited accuracy: While AI detection tools are becoming increasingly accurate, they are imperfect and may produce false positives or negatives.
Limited to a specific data set: Most AI detection tools are trained on a specific data set, and their performance may decrease when analyzing content that deviates from that data.
Human-like AI-generated content: With the improvement of AI models, some AI-generated content might be indistinguishable from human-written content and difficult to detect.
Complexity: AI detection tools can be complex to use and require some technical knowledge to set up and operate.
Ethical concerns: Some people may use AI detection tools for unethical purposes, such as detecting plagiarism or identifying AI-generated content for nefarious reasons. It's important to use them ethically and legally.
Can Google Detect AI-generated Content?
Google's search algorithm is designed to detect and filter out low-quality or spam content, including AI-generated content.
Google uses various techniques to identify and filter out AI-generated content, such as analyzing the text's structure, grammar, and vocabulary and comparing it to known patterns and characteristics of human-written and AI-generated text.
Google also uses machine learning algorithms to learn and improve its detection accuracy over time.
However, as the technology of AI models is evolving, it might be harder for Google to detect AI-generated content that is indistinguishable from human-written content.
Google also uses other methods, such as user feedback, manual reviews, and other signals from the website, to detect AI-generated content.
What Is The GPT-3 Language Model?
GPT-3 (Generative Pre-trained Transformer 3) is a state-of-the-art language model developed by OpenAI. It is one of the largest and most advanced language models, with 175 billion parameters.
It can be fine-tuned for a wide variety of natural languages processing tasks, such as language translation, text generation, question answering, and more.
GPT-3 is trained on a massive dataset of internet text and can generate human-like text and understand context, making it able to complete tasks such as answering questions, writing essays and composing code.
The model is pre-trained on a massive amount of text data and can generate highly coherent and grammatically correct text. It can also understand the context and generate semantically appropriate text.
GPT-3 has been widely adopted by researchers, developers, and businesses and is considered one of the most powerful and versatile language models available.
Features Of A Great AI Content Detector
A great AI content detector should have the following features:
1. Model independence: The ability to detect AI-generated content regardless of the specific AI model used to generate it.
2. High accuracy: The ability to accurately distinguish between human-written and AI-generated content, with a low rate of false positives and false negatives.
3. Scalability: The ability to handle large volumes of text and analyze them efficiently.
4. Easy-to-use interface: A user-friendly interface that is easy to navigate and understand, even for users with little technical knowledge.
5. Customizable: The ability to adjust the settings and parameters to suit specific needs.
6. Regular updates: Regular updates to improve accuracy and adapt to new AI models.
7. Integration capabilities: The ability to integrate with other tools and platforms, such as websites or applications.
8. Compliance and Ethical considerations: Compliance with legal requirements and ethical considerations ensures that AI content detection is done responsibly and legally.
How ChatGPT Made AI Publically Available
In 2019, OpenAI released ChatGPT, a language model based on the GPT-2 model that could generate human-like text and understand the context.
To make the model more accessible to the public, OpenAI released the pre-trained weights for free in 2020 and provided an API for the model, making it easy for developers to access and use in their applications.
In 2021, OpenAI also introduced an upgraded version of the model, ChatGPT-3, with more advanced capabilities such as handling multiple languages and efficient context understanding.
On November 30, 2022, OpenAI made its free chatbot available to the public, which allows users to create AI-generated content tailored to their specific needs, saving them time and resources.
The chatbot quickly gained popularity among developers, businesses, and marketers as a tool for generating natural language content.
The widespread use of open-source platforms using this algorithm has made AI-generated content increasingly popular.
Nowadays, many companies offer a Chrome extension that makes it easy to integrate GPT-3 chatbots into their websites.
The widespread use of AI-generated content has also led to its use in creating entire website pages, product descriptions, and automated customer service chats.
An AI content detector can help mitigate the risks associated with AI-generated content by ensuring that the text is relevant, up-to-date, and high-quality.
For companies that rely on Google and search engine optimization, an AI content detector can ensure that the content generated is SEO-friendly and does not have a negative impact on their website's ranking.
What Are The Pros And Cons Of AI Writing?
Pros of AI writing:
Cons of AI writing:
The Connection Between ChatGPT and GPT-3.5
ChatGPT and GPT-3.5 are both advanced language models developed by OpenAI. ChatGPT is a conversational model built on the GPT-2 model, while GPT-3.5 is an enhanced version of the GPT-3 model.
Many AI content generators, such as articles, blog posts, and email generators, leverage the capabilities of GPT-3 to generate content from scratch by providing data about a topic or idea.
However, this model has limitations, as the data used to train the model is a few years old, which can produce outdated results. To address this, OpenAI released GPT-3.5 in November 2022, which serves as an upgrade for ChatGPT.
GPT-3.5 offers faster and more accurate results with less manual editing and provides up-to-date language models that reflect the latest trends in natural language processing.
Best AI Content Detector Options In 2023 – Conclusion
AI content detection is becoming increasingly important in today's digital landscape. With the widespread use of AI-generated content, it's crucial to have tools in place to ensure that the content is relevant, up-to-date, and high-quality.
The best options presented in this article offer a variety of features and capabilities to suit different needs and budgets. Copyleaks, Kazan SEO, Content At Scale, Originality AI, GLTR, Writer.com, and Hugging Face, are some of the best options for AI content detection in 2023.
These tools are easy to use, affordable and provide a wide range of features to detect AI-generated content.
It's important to note that while AI content detectors can help ensure the quality and authenticity of AI-generated content, they may only be able to detect some forms of AI-generated content and may also have limitations in terms of accuracy and bias.
Furthermore, the best AI content detector for you will depend on your specific requirements and the type of content you're working with.
Therefore, it's crucial to evaluate the different options and choose the one that best meets your needs.